Carbetarian ~ someone who becomes vegetarain but mainly eats starchy carbs. Ok, I am not sure if it is a real word or not, but, that is how I feel I have been this week. Reflecting on my day so far (and yes, it gets worse from here), I have gone from complex carbs (fruits, veggies) to simple carbs (breads, pastas, muffins and such). I am not saying carbs are bad by any means, but, I usually try to center eat meal/snack around fruits and vegetables then I layered on the rest. This week, I am focused on how I can eat my breads, etc. So, after this post, for the next 3 days, I am turning my focus back to fruits and veggies as it should be.
But, first, onto the AMAZING eats I had today. Um, yeah, throwing in the AMAZING part = treats = probably not as healthy as I could've been. After our lunch, I bought a Morning Glory Muffin for my afternoon snack. Seriously, can an apple with almond butter stand up to this?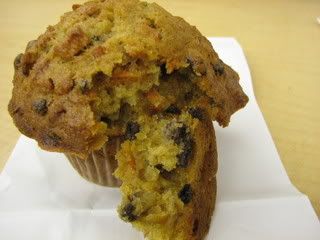 It really was as good as it looks, but, better. I savored every single bite! I did go on quick 30 minute walk to earn a little bit of this muffin.
My original plan was to come home, do Jillian's 30 day Shredd, followed by Yoga. However, The Husband wanted to TV and to eat ASAP. I decided to lighten my dinner up a bit and had only 1/2 a piece of leftover vegetable lasagna.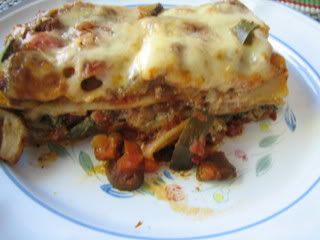 Along with an even better salad. I topped my salad with Trader Joe's Spicy Peanut Dressing – this is by far one of my absolute favorite dressings in the whole wide world. For 2 Tbsp it is only 70 cal and 4 g fat plus it packs so much flavor you do not need more than that.
I added a few dry roasted peanuts to top off the salad and was perfectly satisfied with my meal.
After dinner, I knew I wouldn't be able to workout or do Yoga just yet, so we headed out to get some scratchers and lotto tickets ~ You have to be in it, to win it, right?! LOL….It's one of our fun weekly adventures. Then, all of a sudden, while we were out, enjoying the sunshine, there it was……ice cream! Do you remember how I passed up ice cream on Saturday?! I have been wanting it ever since. Then, The Husband made me realize that ice cream IS vegetarian and it was all over. I caved and had this fabulous chocolate dipped vanilla cone. If it is any consolation, I did resist the urge to get a blizzard because I knew they were a bazillion more calories than my cone.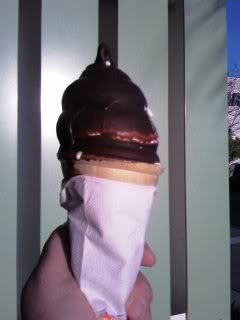 I am so over the top full now and just waiting for my tummy to settle down a bit to do some yoga and watch The Biggest Loser. Tomorrow is definitely going to be a better day in every way! Have a great night all…..3 days of healthy eats, here I come!