Tonight for dinner I wanted something light and something fast. I was completely game when The Husband said he'd even help make it – woohoo!! I knew I was going to use the Whole Grain Naan Bread that I picked up this weekend. We pondered ideas of just having it with the leftover White Bean & Bacon Soup With Pesto or making Pizza….which on do you think won? I know – it's a tough choice, LOL! We used the entire pack of Naan Bread and made up two of these pizza rounds.
Naan Turkey Pepperoni, Olive, Mushroom Pizza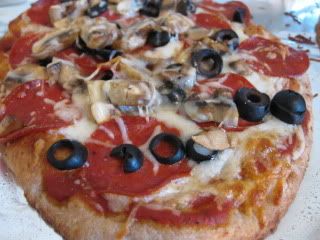 Naan Bread (3 pts for 1/2 a bread)
Your favorite Pizza Sauce (0 pts for most)
Lowfat Mozzarella (2-3 pts per serving)
Sauted Mushrooms (0 pts)
Sliced Olives (1 pt)
Turkey Pepperoni (17 pieces are only 2 pts!)
We baked the pizzas at 400 for 7 minutes – so easy, right? The best part is that I got The Husband to eat wheat pizza crust again – yahoo! He is totally anti-wheat.
While I made up the pizzas, he decorated our salads. He was soooo proud of himself for making it picture perfect. I think he did a great job – check it out.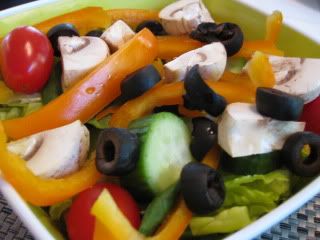 And he used the super cute bowl he bought me for Easter.
All together I had 2 pieces of our Naan Pizza (1/2 a bread)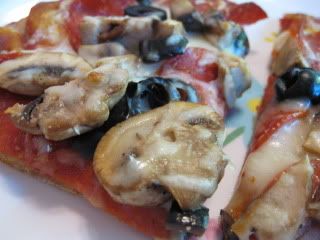 plus a big salad with ~ 1 1/2 Tbsp Annie's Naturals Lite Italian Dressing with a fizzy water and vitamins (that The Husband put out for us).
This dinner was awesome – light and filling at the same time. I LOVE Naan bread now – it was crunchy and doughy and chewy. It really made the pizza so tasty just like a real pizza place. I will definitely use Naan to make pizza again. I LOVE using pitas too but this is another FUN option.
Did I mention that I was also able to get The Husband to go to the grocery store with me? I did have to bribe him with Lotto and Scratchers. While we were there, I had to feed my flip flop addiction! I have way too many pairs of flip flops, but, seriously, can a girl have enough flip flops? Check out how cute these are and they were only $7!
Do you all remember the Holey Donut Party I went to last week? Well, Holey Donuts is having FREE SHIPPING for the next 48 hours if you were pondering ordering any. You still have to buy a minimum of 4 things, but, that can save you a good chunk of change.
On that note….I am off to work on my Biggest Loser 30 Day Jump Start Review.