Today I did my absolute most favorite thing for lunch! Can you guess what it is? Probably….but, I decided to start my week off continuing my pamper me time. I got a pedicure!!! I LOVE that there is a local place that I can run to at lunch and get in/out and back to work in under an hour all while I get caught up on Cosmo or Gossip Mags. The only problem is I want to take a nap after. I came back from my pedicure completely anxious to make what I made up yesterday.
I have to say this just might be my all time favorite new recipe ever. I made up Pesto Pizzettas from the 30 Day Jump Start book. You can get the recipe by clicking HERE. I also made my own pesto versus using store bought and I think that makes all the difference in the world.
Here is a glimpse of my pesto (it doesn't exactly get any photography awards but it tastes fabulous & is low cal/fat!) I followed the version in the Jump Start Book to keep the nutritionals the same but noted how I make mine differently usually. Once you make your own, you will probably never want to buy store bought again.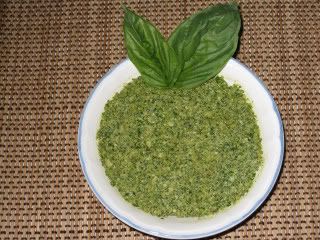 2 c fresh Basil ( I prefer blanched)
1/4 c roasted walnuts
3 cloves garlic
2 Tbsp Olive Oil
2 Tbsp water (I prefer chicken broth)
1 Tbsp Parmesan Cheese
All whipped up in your food processor until creamy. (1 Tbsp 30 cal, 3 g fat, 1 g fiber)
I have made Polenta Pizza before but nothing compare to the combination of pesto + marinara + artichoke hearts + roasted red peppers!
It was pretty hard NOT to eat these yesterday when they were fresh out of the oven but I refrained.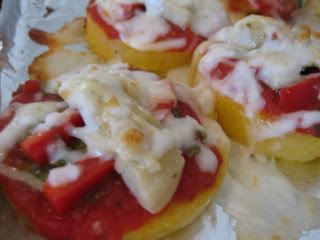 I had 3 little Pesta Pizzetta Appetizers for lunch with a mixed green salad topped with ~ 1 Tbsp of TJ's Lowfat Spicy Asian Peanut Dressing. The book called for lowfat Caesar but I thought this sounded better.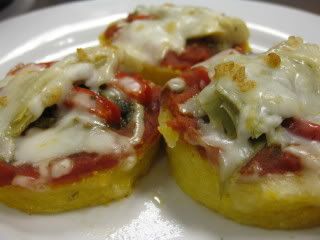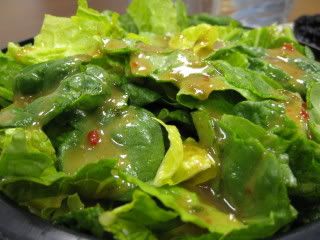 And Blackberries for dessert.
MY SUPER COOL NEWS OF THE DAY other than getting a pedicure for lunch is that I WON a COOKBOOK from FatFighterTV in today's contest. I picked the Veggie Queen cookbook since I already had her first two options. I AM SOOO EXCITED as this is the first contest I've won!!! Yeah!! If you haven't posted a recipe yet, make sure to do so – the first two books she is offering rock!
Ok ~ guess I better get some work done so I can get out of here if I want to see The Husband today at all. I will be so glad when his night shifts are over. See you all after my Jump workout for dinner and more cooking fun!