Today for lunch we checked out a new (to me!) restaraunt in Napa, Ca Piccolino's Cafe. This place is located in downtown Napa by the Plaza. It has such a great set up. It has been drizzling here all day so it was nice to walk in and see the fireplace lit. On the left is the bar area with the fireplace behind me/the camera.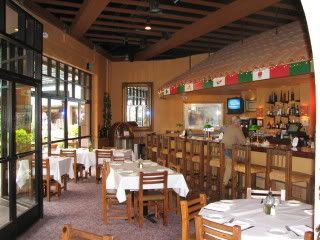 And the restaraunt seating has huge windows with views of the downtown streets. They seat you so you can watch the people walk by downtown as they shop. I have to say as I looked out at the view I was sort of tempted by the Chocolate & Ice Cream Factory across the street…..note to self…..must make that a lunchtime trip too!
I had a couple of slices of this awesome focaccia bread. It came out warm and you could smell it instantly. I had a few bites alone and then dipped it in their aged balsmic and extra virgin olive oil ~ Yum!
There were too many delicious sounding things on the menu so we decided to share two of them.
Fettuccine Calabrese
"Eggplant, Mushrooms, Peppers, Red Onions, Sun Dried Tomatoes, Garbonzo Beans Kalamata Olives, Wine, Garlic and a Touch of Pesto Sauce. "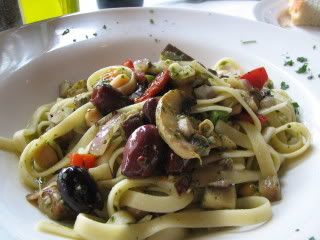 This was soooo awesome! I LOVED every bit of it from the pest to all the veggies to the Garbanzo beans. The pasta was cooked a dente and was perfect. I would definitely order this dish again ~ it seriously rocked.
Pizza Pesto
Thin crispy but doughy crust wtih artichoke hearts, garbanzo beans, roasted red peppers, mushrooms, pesto sauce, mozzarella cheese, carmelized balsamic onions
OMG!!! This might have been the best pizza I've ever had in my life. It has so many levels of flavor that go so well together. I would have never though of adding Garbanzo beans to pizza but it was an awesome addition for some protein. This is a definite must try if you go here.
I had this x's 2 for lunch……it was one of the best lunches ever.
I can't believe I have never checked this place out before, but, I know for sure I will definitely be going back.
I am absolutely looking forward to relaxing tonight after having such a busy week. I am not sure what is up for dinner yet – it depends on if I finish this project with time to spare and what time The Husband gets home. I am thinking simple and easy…maybe a nice big salad.
Oh in other fun news ~ I scored some boxes of Annie's Mac n Cheese today that I am definitely going to have to share – yeah!
See you all for dinner.