Ok ~ so you all know how The Husband likes to have his food occassionally show up on the blog too. Well, prepare yourself because this post is all about his big surprise…..
The Husband decided to completely surprise me tonight by having dinner on the table and ready to eat when I walked in the door. He has only cooked I think twice in the almost 6 years I've known him so this was a pretty big deal for him. Well, that is, unless you count PB&J sandwiches and cereal as cooking. I walked in to find the table set and the food ready to be served..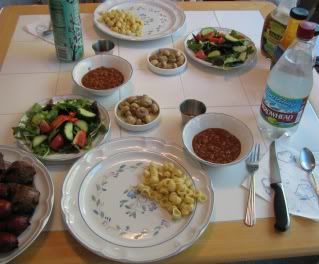 We started out with organic salads (I am so proud of him for buying organic stuff!) I topped mine with Annie's Balsamic Dressing.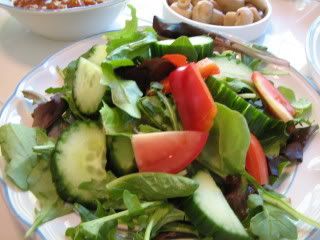 And a side or Champagne Marinated Mushrooms ~ soooooo good! He really went the extra mile here.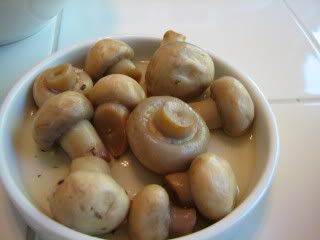 He worked hard grilling up some Tri Tip Steaks and some Lousianna Hot Links for him.
He cut a steak in half for me and served up a perfectly cooked portion. He marinated them all day before grilling mine medium – just the way I like it. It tasted just like a steak at a good restaraunt would if not better.
For sides ~ he served up 1/2 cup of organic baked beans and some Annie's Mac n Cheese. He cooked this up first so it sorta of dried out a bit 😀 oops….but, it was surprisingly still tasty. I think it might be the whole thing about having someone else cook for you.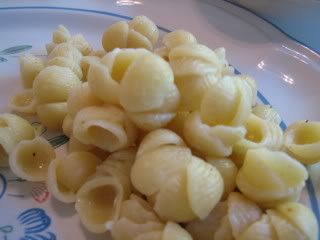 This was one of the best dinners ever. It was so nice to come home to have dinner made already and he even did the dishes too! Wow….I wonder if I owe him now…what do you think?
Ohhhhh and in other FUN NEWS….we picked out our Annie's Giveaway Packs for Monday. I can't wait to share it with you all.
I am off to relax and watch one of our NetFlix with The Husband….I think tonight it's The Bucket List.
Enjoy the rest of your night……I think we are going to plan something fun tomorrow to de-stress after such a crazy week. I'll keep you posted but if you don't see me around it's because we are off having some fun.