Happy Friday to me and you!!! LOL. I started off my day with the best news ever ~ I WON ANOTHER COOKBOOK!!!! Yahoo ~ I love that you all help me feed my cookbook addiction. Jenn at Eating Bender hosted a giveaway for PETA's new VEGAN College Cookbook and I won! I am definitely playing Lotto and buying scratchers tonight.
So, here is the funny party. The Husband thinks I have too many cookbooks and I should trade out an old one for each new one I get. Well, can you believe he told me to actually keep this one and it isn't about steak?!? LOL. Oh and I don't have to give any others away – yahoo!
Ok, I'll get onto breakfast since I know you are all wondering about the 1 WWP bagel I had today. I am a HUGE fan of Western Alternative Bagels – they are fairly clean and you get an entire bagel for 110 calories. I have tried 3 of the 4 flavors (Sweet Wheat, Cinnamon Spice, Roasted Onion). I would LOVE to be able to find and buy the blueberry. Each flavor actually TASTES like a real bagel and not all healthy like the "lite" breads do.
This morning I toasted up my bagel and topped one half with 1 Tbsp organic crunchy pb: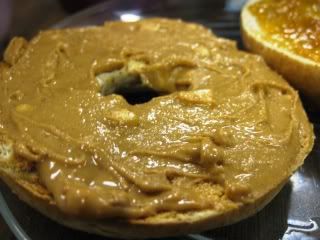 And the other half with 1 Tbsp all natural juice sweetened Apricot Preserves:
Along with this I made up a quick smoothie.
1/2 c ff greek yogurt
1 c ff milk
1/4 c strawberries
1/2 small banana
ice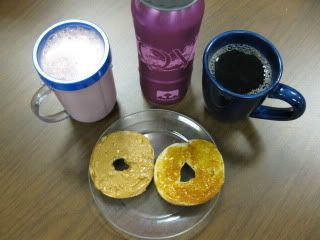 Yesterday when I was running errands, I stopped at Starbuck's and got a Venti Iced Tea. I was all too excited when I saw that they finally came out with an environmentally friendly container for their cold, iced beverages – check it out! I am definitely getting one of these.
SOME QUICK CONTEST FUN:
* Gina is giving away 6 months of Weight Watchers Memebership FREE – click HERE to enter.
* If you want to score some Holey Donuts, check out THIS giveaway.
* Click HERE to enter to win some GREEK Yogurt, but, hurry as this contest ends at 8 PM tonight.
AND of course, do not forget to enter my HG Snack Pack Giveaway – click HERE. You have until Midnight (PST) tonight to enter!
Have a fantastic Friday all! C U L8R 😀