Tonight I completely took the easy way out. We decided to stay in, relax and order pizza. We go to a local place called Cenario's ~ their pizza is pretty decent for a cheap pizza. The Husband loves it so that makes it all the better. I had them make my 1/2 of the pizza vegetarian. Look at ALL those veggies.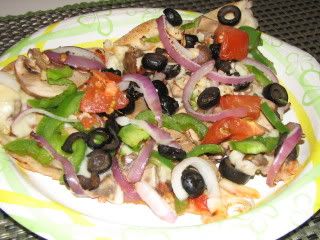 The best part of the pizza is by far the crust. They stuff it with mozzarella and it is so gooey, cheesy and delicious. I had good intentions of making a salad to go with it, but, after eating these two pieces I was stuffed. I suppose it would have been better if I started with the salad ~ oops!
Tonight we are the total IT family….he is happily playing poker online and I am working on making my blog more fun. We have Saving Private Ryan on but I am not sure we are actually watching it 🙂
Here is the fun thing I made tonight – my very own Amazon Store. I am hoping to figure out how to set it up as a link on my site. I haven't fully added all my stuff, but, just a few items to start. It was so easy. I figure I'll add more categories as well.
http://astore.amazon.com/dansdai-20
Okie dokie ~ suppose I need to fit in some Yoga and get to bed at a decent time since I still have a ton left on my todo list. Night all!