My lunchtime run was awesome. I had to go quickly since I didn't have as much time as usual. But, I managed to fit in 3 miles during my interval run. The weather was absolutely perfect ~ sunny with a nice breeze to keep you cool. I felt amazing when I returned, but, absolutely ready for lunch.
I threw a few things into my lunch today to make up something quick. I started with another huge orange.
Then, I followed it up by making an Almond Butter Apricot Honey Wheat Sandwich. I used about 1 heaping Tbsp freshly ground organic almond butter and 2 Tbsp of TJ's organic low sugar apricot preserves.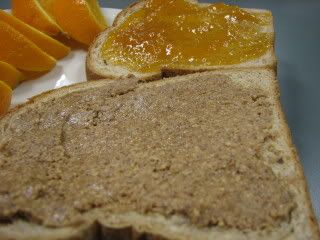 Seriously ~ why don't I eat this more often? It was soooo good that I wolfed in down in a matter of minutes. All together with my orange fizzy water on the side.
In other exciting news for ME ~ The Husband just called to tell me he is cooking us dinner tonight. Ok, he doesn't really do too much of the cooking – he always says he is me Su (sp?) chef LOL. I can't wait to see what he makes. See you all for his dinner special.