With ALL this talk of chips, I knew that I just had to get my hands on some! So, for my morning snack before spinning, I had some "banana chips"…..no, not the kind you are thinking of 😀
It was actually pretty fun to slice up my banana this way and eat it. I need to remember that because fun eating makes eating fun!
Spinning today was soooo tough! My legs were just plain tired and tight – they were burning during the warm up with no tension on the bike *sigh* I suffered through it all but tried pushing myself. I ended up burning 391 calories for my 45 minute session – not too shabby.
I made up lunch last night to marinate like I did the with the Citrus ChickPea Salad.
White Bean & Tuna Salad in an Orange Cilantro Dressing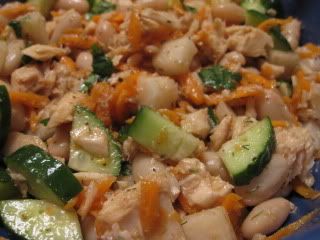 1/2 15-oz can cannellini beans, drained and rinsed
1 6 oz can albacore tuna packed in water, drained
1 carrot, shredded
1 persian cucumber, quartered
2 Tbsp diced Jicama
Dashes of Garlic Salt, Dried Dill Weed and Freshly ground pepper
Cilantro Orange Dressing – whipped it up and pour it over the above
2 Tbsp freshly squeezed orange juice
1 Tbsp Extra Virgin Olive Oil
1/2 clove garlic, minced
1 Tbsp chopped cilantro
2 tsp honey
I LOVED this salad ~ it was definitely packed with protein and kept me going all afternoon. I was excited for my afternoon snack Hummus and Carrots. I was too lazy to peel my big carrots so I opted for organic baby carrots.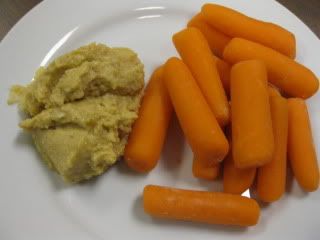 I have never made hummus without Tahini, but, the one in the book called for NO Tahini. I had to check out my jar to see why because I honestly thought there were not any calories/fat. Shocker ~ check out your jar next time, it has ALOT of calories and Fat. To get the Tahini Flavor, I added toasted sesame seeds.
Fast Tahini-less Hummus
1/2 can chickpeas
1/2 clove garlic, minced
juice of 1 lime
1 Tbsp Extra Virgin Olive Oil
1 tsp toasted sesame seeds
3-4 dashes of your favorite hot sauce
salt & pepper to taste
Water, if needed due thin things out
Instead of using my bullet or food processor, I whipped this up in my Black & Decker Mini Chopper. It was done in minutes and actually tastes pretty phenomenal!
Coming up next ~ another awesome spa salad, plus giveaways galore including my Mr. Krispers Giveaway ~ yeah!