I absolutely LOVE the quote yesterday and I cannot believe I forgot to share. Yesterday's mental topic related to being selfish with your time – make an investment in yourself by making time for yourself.
Jackie Evans of Season 5 said this quote that I am totally printing up and posting somewhere:
"You know what? If hte world falls apart, I'll be in good neough shape to fix things when I'm done losing weight."
Seriously ~ we ALL should "unplug the demands of life" to focus on our weight loss goals. Things will not fall apart if you don't do laundry for one day, if you let the dishes pile up, etc….I guarantee that it ALl will still be waiting for you AFTER you finish your workout.
Ok ~ that is my Thursday soapbox – it is something that I really need to remember. I am always so focused on my todo list that I have to remember the most important things on that list.
Yesterdays quick summary recap:
Calories Consumed: 1,490
Calories Burned: 2,697
Steps Taken: 10,368
This morning I have to admit this wasn't a breakfast I was looking forward to. After all the fancy breakfasts I have had this past week, it seems so simple.
I started off with 1/3 cup Quaker Old Fashioned Oats sprinkled with cinnamon & cooked with 2/3 cup water.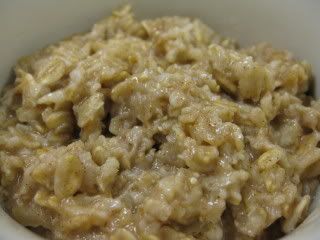 With a 1/2 cup plain fat free greek yogurt, 1/2 a banana and a sprinkle of cinnamon.
I spiced it up a little with some Pete's Decaf House Blend sprinkled with cinnamon.
That was it ~ Kinda boring and not fun. But, it did the job – I am comfortably full and ready to start my day.
FUN NEWS:
I came across this article in Prevention Magazine today. Is your city one of the Best 25 Walking Cities? Click HERE to find out. I was super excited to find out that the #1 city is just a short drive away for me (yes, drive, not walk :o)
Thanks to Tina, I joined going.com today. It's a pretty cool site to find out what is "going" on in your area, find deals and to stay in touch with your friends. Feel free to add me as a friend.
Happy Friday Eve all! I will catch up with you all after my lunchtime run/walk!