Happy Friday ALL! Today sure didn't start out like a Friday should, but, I have a rule for Fridays ~ They have to be good days and you have to be happy ALL day! So, I am "faking it til I make it" today! My breakfast alone was enough to seriously improve my mood and forget about the crazy start to my day.
I started off by sampled the AppleBerry Vitatop ~ Check out the stats (1 WWP for the entire top)! Plus ~the top of the muffin is the absolute BEST part – such a win, win!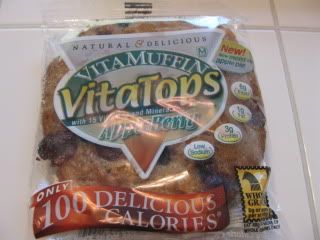 It was THIS description that sold me on trying this one first ~ "made with real apple chunks, cranberries, blueberries & organic evaporated cane juice. All natural, 100 calories, low fat, cholesterol free muffin tops with oat bran and 15 vitamins & minerals."
I popped it in the toaster to make it crispy and warm.
OMG ~ So amazing! This top is loaded with apples and tons of berries – there was definitely no skimping here. I liked how moist and sweet it was ~ it doesn't taste like a "healthy bran" muffin at all – LOVED it!
I made up a big side bowl of fruit ~ organic strawberries, blueberries, apricot.
All together with my FAVORITE TJ's Fat Free Honey Greek Greek Yogurt for 2 WWP of protein.
Here are some FUN THINGS going on in The Bay this weekend:

* Do you LOVE to draw and LOVE chocolate? Check out the Chocolate and Chalk Festival this Saturday in Berkeley. The best part is IT's FREE!! Click HERE to read more.
* I LOVE DIY (Do-It-Yourself) Stuff! They have a really cool REMAKE AMERICA Festival going on where you can help to build a Sustainable Future! I am definitely going to ask The Husband if we can fit this one in (we get our concrete poured this weekend – yeah!). Click HERE!
PLUS TWO GIVEAWAYS!!!

* Missy is hosting an Espresso Giveaway – Fun! Click HERE to enter.
* Are you a fan of GNU Bars ~ Then, be sure to enter my Givewaway by clicking HERE.
I will be announcing my next 2 week challenge later on today and I hope YOU ALL will want to join in with me. There will be some giveaways associated with it – yahoo!
Have a FANTASTIC FRIDAY all! Today is going to be a great day, today is going to be a great day….I know I'll believe if I just keep thinking, typing and saying it!
Catch ya'all later!