Today I had an awesome run in the rain ~ 4.42 miles! I actually think running in the rain made it more fun ~ like being a kid again and splashing in the puddles. It really didn't even seem like work to run and I LOVE workouts like that.
My morning snack held me over well. I had some fruit (pineapple, strawberries, blueberries) and some Trader Joe's Lightly Salted Cashews that they have in little packs.
I didn't make up my lunch until almost 2 pm, but, it was definitely amazing. This might just be my favorite new way to have Snobby Joes. Based on Rachel's recommendation, I steamed up a Sweet Potato in the microwave for 3 minutes and served my Snobby Joes on top of it – YUM!! I made it a quick lunch by adding some more veggies (cucumber, carrots, tomatoes).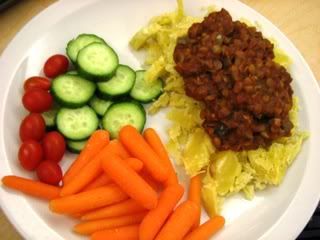 I am quite full so I am going to ignore my taste buds desire for something sweet. I am making up a sweet treat tonight that I want to hold out for. See you then!