We had a fabulous bike ride today! We rode out on a trail over to the next town and road along the boat docks by the pier. I pushed it while on the trail but we casullay road while checking out the boats and the houses. I love pier area – it's great for people watching, but, it's also cool to see the modern houses along the water and then just behind them all the fancier victorian homes. It was an awesome 1 1/2 hour ride and the perfect way to spend an Easter afternoon. Before our ride, I had the other 1/2 of my VEGAN NUGO Dark Chocolate Almond bar.
We decided against the traditional Easter dinner that we might make (Ham, WW Au Gratin Potatoes, Asparagus, etc) and decided to enjoy the outdoors with our 80 degree weather. We BBQ'd up some chicken drumsticks (reminds me of being a kid) and some chicken breast. I had 1 drumstick and 1/2 a breast (about 2 oz).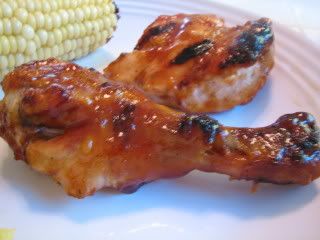 We also threw some corn on the grill wrapped in some foil to steam while the chicken cooked. I had one ear of corn with 1/2 a cup of my Healthier Potato Salad. (BTW ~ I just updated that post to include the Nutritional Info if you wanted it.)
And for some crunch and veggies – a nice big salad in my new Easter Bowl The Husband got me. Isn't it funny that I can get all too excited over a new bowl 🙂 I am easy…to please that is 😀 lol I topped my salad with TJ's LF Spicy Peanut Dressing.
It was an awesome dinner and totally filling. After dinner we headed out to watch the new movie with Seth Rogen, Observe & Report. We both LOVE all the movies he is in, but, I have to say this one was a stretch. There were some great slapstick funny parts, but, it does kind of get out there a bit and you wonder where the plot is going. I'd definitely say this one is worth waiting for the DVD to come out.
It was a fantastic Easter….I hope you all enjoyed yours as much as we did. I will post my summary in the morning for the day. See you then.