Today was the much anticipated Buckhorn's Grill outing. I promised Rachel way back when that when Lent was over we'd head out to get her some "meat" since she gave up meat for Lent. Buckhorn's did not disappoint! We were both pretty hungry by the time we got there and wanted to try one of everything. You know the best way to do that is to invite a friend! We decided on splitting two dishes.
We ordered the Yik Yak Salad with Chicken. Check out this description: "An oriental salad with south of the border flair; a crisp mix of greens, cabbages, jicama, red peppers, snow peas, tossed with sweet sesame dressing & topped with toasted almonds". It was crunchy and spicy and creamy and sweet. The chicken had a cajun flavor that went really well with this cool salad. I took a little of the chipolte tortilla bowl and made a mini wrap with some of the salad ~ OMG – they should sell this as an option on their menu. So amazing….I could eat this salad again and again!
And we split the Big Buck Tri-Tip Sandwich with Sweet Potato Fries. They slow roast/smoke their Tri Tip to "age" which makes it have so much flavor. You have the option of using their Au Jus for Dipping or some of their homemade BBQ Sauce. I tried it with both and honestly they were both so amazing I couldn't decide which I liked best. Did I mention that they make their own sweet bread rolls too?
I had about 1/2 of the salad, 1/2 the Big Buck Sandwich and 2 handfuls of fries. Here is my portion but take the salad and fries x 2.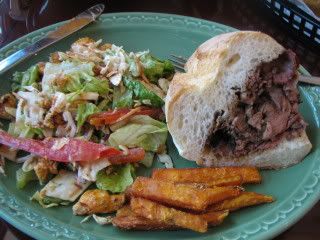 Yum, yum, yum! Words cannot describe how good lunch was and I wasn't even the one fasting LOL.
This morning my snack was tasty but not as good as lunch….I had a 3/4 oz lowfat Cabot Cheese with a serving of the Blue Diamond Pecan Nut Thins. I love the crunchy, salty, nuttiness of these.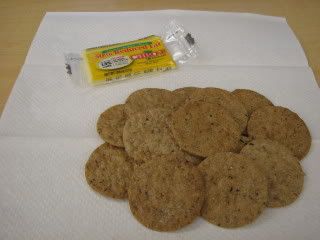 I will definitely lighten up dinner after today's lunchtime feast. I will see you all then.