Fleet Feet Diva Night was sort of interesting. It is an event that they have every year just for women. I really like the people at this Fleet Feet as this is the group I did my running with when I trained for the Napa to Sonoma Half Marathon.
Did you all know that your sports bras are only good for 6 months to 1 year/52 washes? I think that is the biggest fact that I learned tonight.
At Diva night they bring in all kinds of experts who will personally fit you for a bra, people who talk about specialty optimal performance products and my favorites – the Yoga Instructor and Sports Massage Stations.
My absolute FAVORITE bra is the Fiona Bra made by Moving Comfort. For anyone who is well endowed and looking for optimal performance that keep "the girls" in place this is the bra for you. I have swore by this bra now for over 5 years. Tonight I was fitted and tried on several bras, yet, still picked out the Fiona as the best fit.
With my purchase, I got the cutest bag along with free goodies!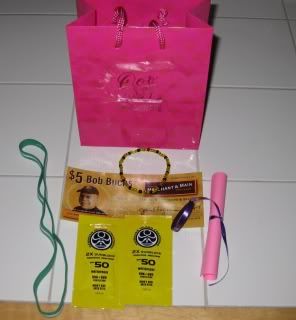 And I bought a super cool new 100% BPA free bottle to replace my SIGG. I LOVE my SIGG but I've dented it like crazy and how can you pass up this way cute Nathan Bottle in pink that says "LOVE" on it. (Yup, Sis – you are so going to want one!)
One cool feature about this bottle is that it has a clip so that you can hook it onto anything and it is LEAK Proof (unlike my SIGG).
I picked up a ton of flyers for the Yoga Studio, the Boot Camp Adventure, runs, trail runs, etc and bought the coolest bracelet (one was in my freebie bag)! The bracelets were made by children in South Africa & 100% of the proceeds go to their school – how cool is that?!
Next, I stopped by to see this lady who was sampling Mona-Vie. Have you ever heard of this? I was intrigued because she said that an entire 2 oz serving has ALL your fruit requirements met for the day.
I had to try a sample when she said that. It wasn't bad – it reminded me a bit of wine and a bit of like a berry flavored yogurt. She said that the green stuff in the bottom of your cup you are supposed to lick out, but, I drew the line there. What would people think of me licking my cup and eeeww too at the thought?!
On the way out, I, of course had to check out the food spread. I thought it was pretty funny to see that they found a way to make an Active Recovery Drink (Nuun) into a Martini complete with Peach Schnapp's and Vodka. That is one way to prevent a hangover the next day 🙂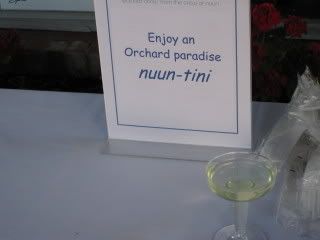 They had a great set of appetizers out complete with no forks – Ooops! 🙂
I opted for the Lemonade and a little sampler plate with some fruit, cheese, crackers and a meatball – super yum! I made this my snack instead of my planned apple with almond butter.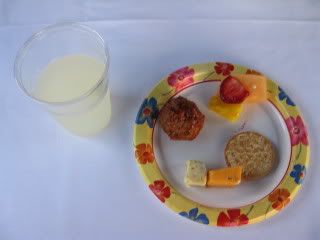 It was a fun and informative night. I am definitely going to check out the Yoga Studio, but, I think I might be scared of the 445 AM boot camp for 4 weeks 🙂
When I came home, I finished up our laundry and got started on dinner. I feel like I have been cooking ALL day lol.
The All Clad Stir Fry Pan I won from Food Buzz made a encore performance tonight. I made up the Jump Start Pork Stirfry with Garlic Broccoli. I followed the recipe except I added in some Hoisin for sweetness and Sriyachi for spice.
Here are my step by step photos as I put it all together – click any to enlarge:
I served my stirfry up with 3/4 cup Brown Basamati Rice, a plum, and 8 oz of fat free milk. I was actually too full to eat my plum and am saving it for later if needed.
The Husband is home now – yeah! I am off to relax, snuggle and probably watch a movie with him.
See you all in the morning!