Today was such a fun, but, long day. I did the Intermediate/Advanced Power Yoga #2 session from yoga download.com for my yoga today. I really liked how this session challenges your muscles and balance. It feels more like a workout than a relaxation Yoga which is nice. However, I am not sure I am too fond of this particular class because you go through so many poses so fast and the instructor doesn't always call out the names so you know which move you are on. I will give another power yoga session a go, however, I probably will not repeat this particular one.
We spent the day shopping, going out to two restaraunts and attending the Home and Garden show. We had fun browsing for new ideas and of course I scored some good finds. We bought some flavored homemade nuts (yum!), 2 cookbooks, 2 types of homemade bread and two magazines.
My AM snack was half of this Blueberry Crisp Clif Bar as we drove. It was eh, ok, I probably won't but it again as I think there are other flavors that are better. I also had a few of The husband's cashews (not pictured).
We stopped for lunch at one of my favorite places in the whole wide world, Jacks Urban Eats. Every city and town should have a place this good. I love being able to pick/choose what you put on your salad – everything is so fresh and the dressings are homemade – so good! I made my own salad and had a slice of freshly baked bread on the side.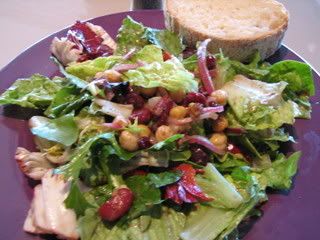 I made my salad vegan and my mix included:
mixed greens, chickpea/kidney bean mixture, pickled red onions, dried cranberries, walnuts, grapes, red bell pepper and balsamic vinaigrette. This really tasted as good as it looks.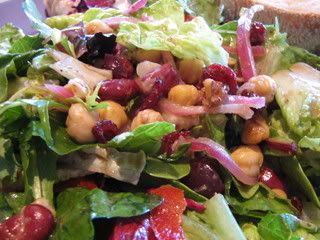 After shopping at several stores (we are on a quest for a new dresser to match our bedroom set from Pottery Barn), we headed over to the Home & Garden Show. We bought some great seasonings and marinades along with some of these awesome freshly roasted nuts. I quickly opened the bag and snacked on a few as we walked around.
We didn't end up having dinner until late so I also snacked on an organic fuji apple. I took a picture, but, well, it's an apple and I am making this post long already 🙂
Dinner was at The Old Spagetti Factory ~ The Husband got excited when he saw it so I knew we had to go. Sorry ahead of time for the pictures, I tried to get everything to make them lighter but somehow candlelit dinners are not too great for picture taking. I did my best to keep my meal vegan and the manager assured me that nothing was cooked with butter and only in olive oil – yeah!
I started off with a couple of slices of freshly baked, hot, crusty, chewy sour dough bread – no butter.
Since I had salad for lunch and their salad was mainly iceberg, I opted for the Vegetarian Minestrone ~ Yum! This was so flavorful and fillng – it could be a meal by itself.
For my entree I had the Spagetti with marinara and they topped it with some freshly sauteed (in olive oil, garlic, herbs) mushrooms. This was pretty flavorful, but, the mushrooms were the definite star. I ate about 1/3-1/2 of this and The Husband ate the rest.
Dinner also included your selection of ice cream and it honestly took ALL my want power, will power and strength to hand my dish over to The Husband. He kept telling me one bite was ok, but, I knew it wasn't vegan and it wouldn't be fair to "cheat" on vegan week. I LOVE ice cream – wish they had sorbet because then I could've participated too.
Phew ~ long post and day, but, it was a really great day for us. I am off for snuggle time with The Husband ~ Have a great night all for what is left of it.
Don't forget to set your clocks forward tonight.