Isn't it amazing how much faster walking and running go when you are chatting it up with a friend? We walked for an hour today and time completely flew by. I LOVE days like that! I was definitely ready for lunch when we got back.
Last night I made up this fabulous Jump Start Spicy Tomato & Lentil Soup. It cooks up in under 20 minutes but tastes amazing with all the spices in it. I had a 1 cup (230 cal, 6 g fat, 6 g fiber) serving. I really liked the chunkiness and protein (13 g per serving) that the lentils added to the soup. (Sorry I couldn't find the recipe online for this one, but, if you want it, let me know). This is a fabulous VEGETARIAN dish. You could sub soy milk and it would be VEGAN.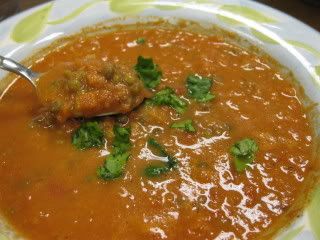 I also grilled up another TJ's Chile Lime Chicken Burger ~ These are my favorite premade burgers of all time. Instead of stuffing it in my pita, I put all the toppings on top of a bed of spinach!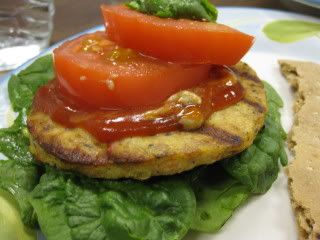 With 1/2 a whole wheat pita on the side – perfect for soup dipping!
This really was a fabulous lunch – very filling yet light at the same time. I will definitely be freezing up some of this soup in single servings for later.
I can't wait for TONIGHT!!! It's the FINAL Biggest Loser Show before the finale. I can't wait to see who the final 4 are, but, I can bet you I am not voting for any brown.
For those of you who watch The Biggest Loser – Who do you hope wins? Have you picked a favorite yet?