The Husband convinced me tonight that I have been cooking for two weeks and should take the night off in the form of going on a date with him….yup, it really took some twisting of my arm especially since fish was on the menu AGAIN! The Jump Start called for 4 oz grilled salmon with 3/4 c multi-grain pasta with marinara & parmesan plus 1 c broccoli. Although I didn't round out my meal to match this exactly, I think I still did ok.
We went to Mary's Pizza Shack, one of our favorite local places. I usually get their awesome salad with their homemade dressing or pizza of course. Tonight I decided to give the pasta a go especially since you can order it with multi-grain pasta.
When the server brought our drinks to the table she brought out this amazing homemade, hot bread with butter.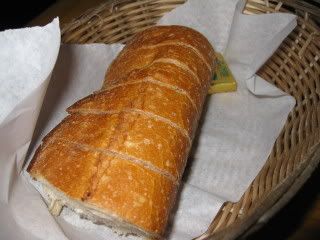 Bread + Butter = one of my absolute staple foods. Yes, I had a piece and it was worth every bite. Crispy and chewy and buttery – yum!
Next up The Husband ordered their Fried Ravioli's. We have never eaten a ravioli "fried" before so we were curious to see what it was all about. It comes served up with Tomato Basil Sauce for dipping.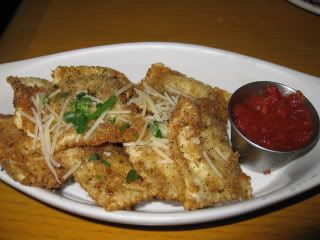 I pondered if they were worth it or not, but, in the end thought I'd try just one to see.
I wasn't too impressed. It was sort of like a fried mozzarella stick but without the ooeey gooey cheesiness. Plus, they were really salty.
I picked their side salad for starters even though I LOVE their soups. I had their homemade italian dressing on the side. Can you believe this is their SMALL house side salad?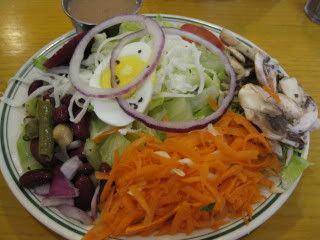 For my main course, I ordered the Pasta Primavera with grilled chicken and multi-grain pasta. This is one of their healthier options on the menu. I ate about 1/3 of this as I was pretty full after that huge salad. I liked the pasta and veggies but think I could have done without the chicken….I only added it to get some protein in but I wasn't feeling it.
The Husband ordered a HUMUNGOUS Meatball with spagetti and meat sauce. I have to admit, it looked pretty tasty and the taste I had was awesome! Maybe that is why my healthy version wasn't as good – I wanted red sauce versus garlicky chicken broth 🙂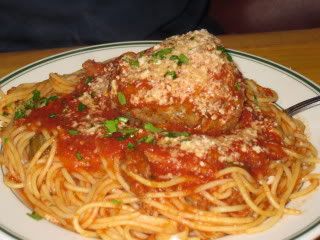 The server also brought out some amazing cheesy garlic bread. It smelled soooooo good and look at all that gooey cheese. I know garlic bread is 5 WWP a slice and this certainly fell into that category.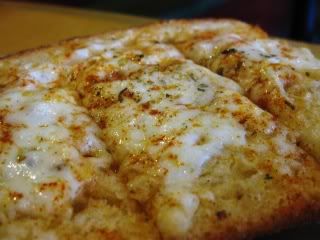 But, being a sucker for all things bread, I caved and had a piece. It was worth eating less of my pasta dish to have this.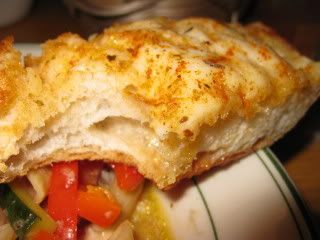 I did indulge a little, but, I am really proud of myself for stopping when I was full and eating in moderation. That is half the battle, afterall, right? It was a great night out and it was nice to not cook after all 13 days of alot of Jump Start cooking.
We decided to go shopping afterwords to walk off our dinner. I bought some great stuff at NY& Co (sis ~ been there lately?) We always shop at separate times but end up buying the same things – great minds think alike, right?
Alright all, I am off to watch a movie and hang out with The Husband. He just slipped me a note while typing with his phone number on it and it reads "call me!" LOL. He is such a clown.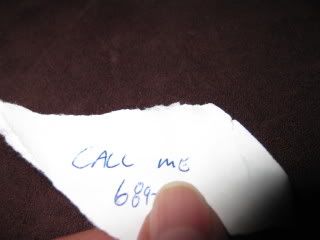 See you all in the morning after my workout and before our massages ~ can't wait!!!