Tonight I decided that the chicken, sweet potato and green beans on the Jump Start Menu just didn't appeal. The Vanilla Poached Pear did for sure, but, I am not sure if I am going to be doing any more cooking tonight.
Tonight's dinner was fast and incredibly tasty. I will be the first to admit I am a Pizza Snob! I LOVE homemade pizza and pizza from good restaraunts. I can usually take or leave frozen pizza – in all honesty, most of them are just not worth the calories for what you get. That was until Kashi came along…..
I have been so excited to try these two new thin crust pizzas. They have two other flavors (Mushroom Trio & Spinach & Mexicali Black Bean) that I think I need to add to the to try list.
The first pizza to hit the oven was the Margherita ~ Tomato + Basil = LOVE!
Are you ready for this ~ You get 1/3 of the ENTIRE PIZZA for 250 Calories!!! Did I mention it's just 5 WWP's as well?
Coming out of the package it looks pretty much like most frozen pizzas with a super thin wood fired crust.
However, when it comes out of the oven – it's a whole other story! The smell alone makes you want to dig in right then.
The second pizza that went into the oven at 400 degrees for only 7 minutes was the Roasted Vegetable Pizza.
The nutrition stats are awesome once again ~ this one is only 10 calories more ~ 260 Cal for 1/3!
This one is a little less pretty coming out of the box. I sort of thought, wow, they don't splurge on too many veggies :o)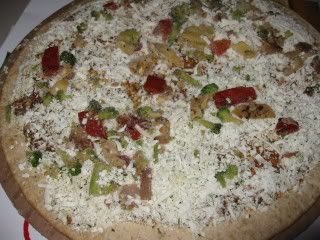 It looks so much better when it comes out of the oven all hot and cheese bubbling.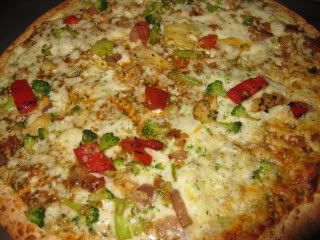 Are you ready to see what 1/3 of EACH pizza looks like? I decided on 2 slices (2/3's) that I cut into 4 pieces to "trick" my brain into thinking it was THAT much!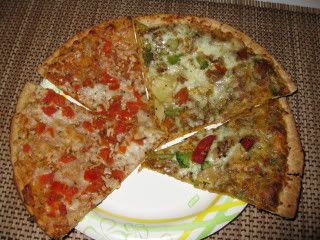 Awesome!!! We BOTH absolutely LOVED these pizzas. Seriously – they do not even come close to tasting like a frozen pizza or even a healthy pizza. The ingredients are fairly clean as well and I LOVE that you get protein plus fiber plus Omega's with your seven grain whole crust. The Husband even raved about this and he usually is the first to tell me I used wheat crust!
I will definitely buy these and the other Kashi flavored pizzas again. You could pair it with a nice green salad for a completel meal. I was surpisingly content and didn't eat any salad (I had salad at lunch so it's ok, right?!) 🙂
My afternoon snack was less exciting. I had the other serving of my homemade applesauce with 4 almonds in one of my super cute new bowls!
With 2 oz of lean ham/turkey rolled up.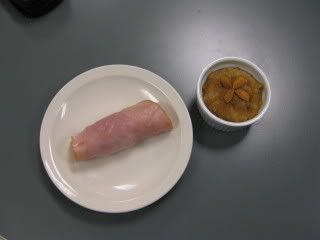 I also made up my strength training workout that I missed out on last night.
3 sets of each:
* Bent-over row
* Chest Press
* Tricep Extentions
* Overhead Press
Plus today's Mobility & Body Weight Exercises held for a minute each or 16 reps x 2
* Toe Touch Reach
* Plank
* Cobra
* Opposite Arm & Leg Reach
* Bridge
* I owe my 100 crunches for today but forgot. I will make them up for tomorrow (to date 700/3100 and counting!)
Followed by static stretching: chest, lower back, shoulders, triceps, biceps
Phew! I am off to relax with The Husband and enjoy my night. See you all tomorrow!