Today I really wasn't feeling breakfast and definitely wanted nothing to do with anything sugary. I think yesterday did me in with all the treats and food consumption. It is like I had a food hang over today lol. I decided to go with something simple for breakfast using 3 of my favorite products.
To start, I toasted up a Western Alternative Sweet Wheat Bagel. These are absolutely delicious and taste like the real deal. You cannot even tell that they are only 110 calories and they pack a nice 7 g of protein, 1 g fat and 8 g fiber. These bagels are only 1 WWP point each.
I topped it with an individual Weight Watchers 1 oz container of Cream Cheese. These little cream cheeses give you a ton of flavor for 60 cal, 5 g fat, and a little fiber. They definitely cover your bagel and taste just like real, fattening cream cheese. They are only 1 point each – you can't beat that. Look at all that cream cheesy goodness.
To get in some dairy and add in some more protein, I had an individual Trader Joe's Fat Free Blueberry Greek Yogurt. These are by far my favorite flavored greek yogurts and they only contain 13 g sugar (3 teaspoons), which is far less than other brands. Plus, you get whole blueberries in there – yum!
All together my entire breakfast was 290 calories, 6 grams fat, 11 g fiber and a whopping 22 grams of protein. Since our bodies can only digest 25 g of protein at a time, I did a pretty decent job at fulfilling that criteria. Plus, I feel like I had a "sinful" meal of a bagel with cream cheese. Here it is all together with my SIGG and my running bunny mug (empty because I was waiting for the decaf to brew).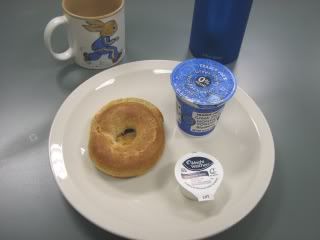 Today I have to play a bit of catch up on everything since I was so busy with yesterday's festivities. I hope to make a big dent in my todo's by lunchtime. Then, it's off for a nice walk outside to enjoy the 70+ degree weather and another favorite lunch.
Happy Hump Day all!