Can you all believe The Husband and I have been married for 6 months now? He actually reminded me of that tonight when I walked through our now (dirt path waiting for concrete). I think we need to find time to celebrate that landmark this weekend since we both were swamped tonight. If you want to check out our wedding pics, you can click HERE (yes, I STILL haven't organized them).
Any ideas for what to do?
Dinner tonight was fast and easy. I absolutely LOVE a Caprese Salad (Fresh Mozzarella, Tomato, Basil, Olive Oil, Balsamic). I was inspired by this recipe when I was flipping through my new WW Cookbook, Hit The Spot.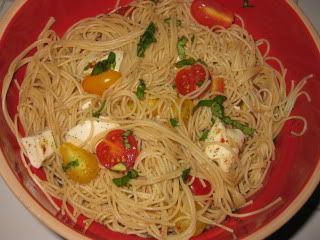 1/2 lb Barilla Plus Multi-Grain Angel Hair Pasta
2 c organic cherry tomatoes sliced in half
4 oz fresh mozzarella (I chose TJ's Spicy EVOO Mozzarella Twists)
1 clove, garlic, minced
1/4 c fresh basil, chopped
1/4 c good quality balsamic vinegar
sea salt & freshly ground pepper to taste
Optional: Sprinkle with shredded parmesan cheese
Cook the pasta according to the package directions, omitting salt if desired. Rinse with cold water as soon as you remove it from the heat.
While the pasta cooks, prepare the remaining ingredients in a bowl. Add the pasta and toss to combine.
Makes 4, 1 1/4 cup servings at 6 pts each
I think when making a dish like this it is important to pick a pasta that is FILLING like Barilla Plus – it not only had fiber but added protein so you will be content with less. I also picked up the TJ's Marinated Mozzarella because it has MORE flavor for close to the same nutritionals. This cheese was definitely spicy but the total star of the show.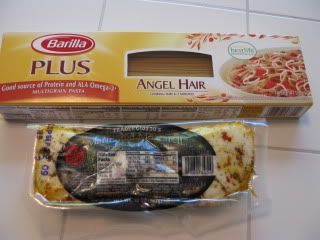 Here is my nice size serving of Caprese Pasta Salad.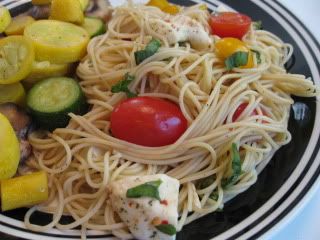 While everything was cooking, I sauted the remainder of my baby squash with some mushrooms in a little olive oil, sea salt and freshly ground pepper.
It was a fast, tasty and absolutely delicious dinner. I LOVED coming across every "surprise" spicy mozzarella ball.
After dinner it was time to get down to the task at hand. Do you all remember ALL that baking I did back for Meghann's Blogger Bake Sale? Well, my cute little taste tester's, Rachel's Kiddos, put in a request ALL the way back then to have some cookies made for their birthday. So, tonight, I whipped up a batch of not so perfect Moon Pies (crispy+peanut butter+marshmallow+dark chocolate!).
And a batch of Snicker Surprise Cookies.
I might have been guilty on unwrapping too many snickers that had to be eaten (ok, only two!) and pondering eating some of the extra frosting. But, I have a built in brain mechanism that makes me dump water in the dish BEFORE I can think about breaking out a spoon or licking the bowl!
The Husband of course had to sample the cookies to make sure they were ok. I snuck a bite of this because honestly, how can you resist?! (Peanut butter cookie + snickers + vanilla buttercream frosting!!!!!)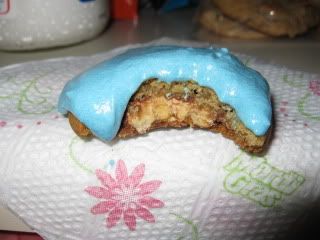 In other SUPER COOL NEWS, the cookbook I won from Jenn at Eating Bender showed up in the mail today!
Thanks again, Jenn ~ You seriously rock! I cannot wait to check out and make some more VEGAN recipes – yahoo!
Last call for all Hungry Girl Fans ~ Be sure to click HERE if you want to win her latest amazing 200 under 200 cookbook and T-Shirts. The contest is all over tonight at Midnight PST.
Alright ~ I am FINALLY off to read, relax and probably fall asleep before I do either.