Today is flying by ~ time flies when you are having fun?….Um, yeah, I am working so not sure how fun that is lol. This morning I snacked on a big organic orange that was eh, ok, a little dry and a 3/4 oz (50 cal) Lowfat Cabot Cheese. (2 fruit servings – check, 1 dairy serving- check)
Then, I decided I wanted a little crunchiness in my snack. So, I opened up the other box of Blue Diamond Pecan Nut Thins I bought last week in Pecan flavor to sample. I shared with my co-worker and we had a little "crunch" party – lol.
I really like this flavor the best so far. You can taste the roasted pecans and they are a little saltier. I like the crunch too ~ It honestly is better than having chips and so much healthier too. You can find out all the details about the Blue Diamond Products here (so cool that they are made in California and not that far from me).
We all ordered in today for lunch ~ I think it was sort of a combination of a long week plus almost everyone being gone in the office. They ordered from Round Table Pizza and we got ot pick out what we wanted. Did you all know that they have their nutritional information online for every pizza with different sizes and crust?! I was all too excited to find out.
I was originally just going to go with a Garden Salad, but, once I saw the specs on the personal pizzas I knew I had to order one.
I started with a garden salad that my fabulous co-workers made up for me at the salad bar….look what a great job they did!
And then, the star of the show was the Personal Maui Zaui Pizza…..this entire pizza is only 170 calories and 4 g fat with original crust – woohooo! Well, that is what the NI says but then it says it is 4 servings to a pizza with a serving size being a pizza (which is it?! *sigh* Good thing I only had room for 2 slices. I might have snack for later if The Husband doesn't steal it.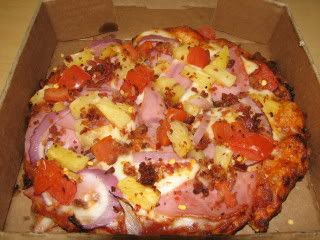 Topped with some crushed red pepper flakes and it was absolutely amazing! I LOVE pizza….so glad it includes all the nutritional groups you need (dairy, veggies, protein, carbs 😀 LOL…..
The best news just showed up – they are making us ALL go home early – in 1 hour – yahoo!!!!
The countdown just went from 4, 3 to ONE! Catch you all later probably after date night or in the early morning. The Husband just called to let me know we might have another fun road trip tomorrow too. Let the fun begin!