Tonight's dinner might just top the charts as one of the best steaks I have ever made. I took my 30 day Jump start menu and got a little creative. Not to toot my own horn, but, I feel like my steaks turned out better than anything you can buy in a restaraunt LOL. I definitely scored good wife points with the feast I prepared for The Husband – he is suddenly liking the Jump Start Menu LOL.
Filet Mignon with a Marsala Wine Sauce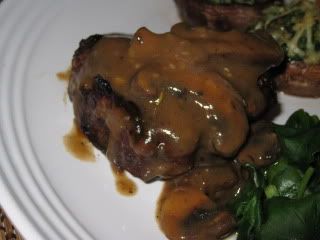 1/2 cup less-sodium beef broth
1/4 cup water
2 teaspoons all-purpose flour
3/4 teaspoon Dijon mustard
1 garlic cloved, minced
1/2 teaspoon italian seasoning
1/4 teaspoon salt
1/8 teaspoon black pepper
1 Tbsp butter
Cooking spray
2 (4-ounce) beef tenderloin steaks
1 cup presliced mushrooms
1/2 cup sweet Marsala
Heat a large cast-iron skillet over medium high heat.
Combine first 8 ingredients in a bowl.
Coat pan with cooking spray and add butter until melted. Add steaks to pan; cook 5 minutes on each side or until desired degree of doneness. Remove steaks from pan. If your steaks are not done enough, you can move them to the grill to continue the slow and low process of cooking them to medium well. You could do this in the oven.
Add mushrooms to pan, and cook 3 minutes or until lightly browned. Remove mushrooms from pan. Remove pan from heat; add Marsala, scraping the pan to loosen browned bits. Reduce heat to medium. Return pan to heat. Add broth mixture to pan; bring to a boil. Cook 1 minute, stirring frequently. Stir in mushrooms.
Yields 2 servings, 7 points+ each
I made "Stuffed Mushrooms" on the side to go with the steak. I didn't see the recipe online so here are step by step pictures.
Start off by blanching 2 handfuls of Arugula in hot water for 1-2 minutes. Remove from heat, add cold water, drain and add to your food processor.
To show you all that you do not NEED a food processor, I used my Black & Decker Mini Chopper.
Chop up the cremini mushroom stems, plus 1 clove of garlic and 2 Tbsp roasted walnuts.
Pulse until slightly chopped.
Add 2 Tbsp of freshly shredded parmesan with 1 Tbsp Olive Oil.
Pulse just until blended. Remove and put in a small bowl seasoning with salt and pepper.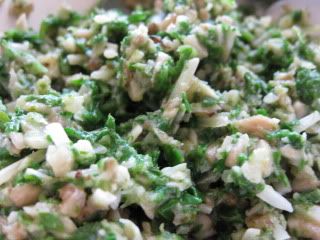 Place the filling in your prepared cremini mushrooms (stems removed) ~ 1 heaping tablespoon each. Top with additional shredded Parmesan and bake at 350 for 10 minutes or until browned.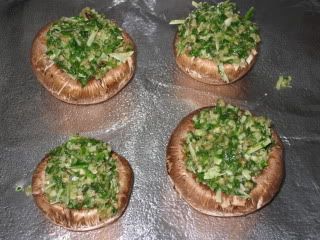 I had 1 of these fabulous 45 calorie (1 WWP) mushrooms because The Husband stole my other one 🙂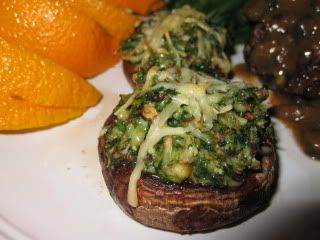 Along with a side of steamed spinach.
And 1/2 an orange I planned on eating. I only managed 1 piece because I was full.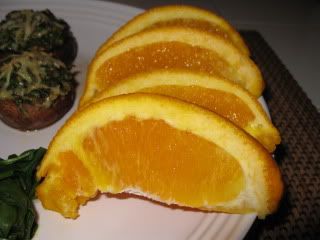 This was a dinner that was totally worth the effort. All together with 8 oz of Fat Free Milk.
You have 1 more day to check out my HG Snack Pack Giveaway! The contest closes tomorrow night at Midnight (PST). Click HERE to enter if you have not already. You get a bonus entry if you have a blog and link back.
Night all!