Despite being woke up all night long (between our friends having the baby/giving us details – they had a healthy baby boy right before midnight) and my possessed car alarm (that likes to go off for no apparent reason), I feel like I got enough sleep this morning. Yes! I love starting my week off feeling refreshed and ready to go. I got up early to fit in a quick 25 minute run and it was really the perfect way to start my day. I miss how good it makes you feel when you start your day off with a workout.
For breakfast, I mixed up one of my favorite cereals (TJ's High Fiber Cereal) with a new cereal TJ's Strawberry Yogurt O's. I like the high fiber cereal because it is low in points 1/3 c = 0 pts, 2/3 c = 1 pt and you can add it to other fun cereals to flavor it up. The fiber really helps to keep you satisfied for a long time. The Strawberry O's were not bad, but, I think they might be better eaten dry.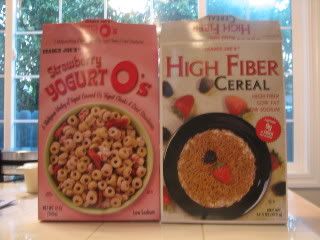 I served it up with 1 small banana, 2 strawberries, about 1 Tbsp blueberries and 1 cup ff milk. I love that I have checked off 2 fruit servings and 1 dairy serving with just one meal. If you look close you can see the little strawberry yogurt clusters ~ I LIKE coming across those as I crunched away.
Here is my recap for yesterday:
Calories burned: 2,729, Steps taken: 9,005 (not bad considering I didn't wear my BB for 3 hours while it charged)
Calories consumed: 1,627 (28 WWP's) – on track, but, want to lower this
Do you all like free stuff? I am addicted to checking out the free samples you can get from walmart.com every day? Some things stay there forever (maybe nobody wants them), but, they add some cool new things from time to time (sometimes daily, sometimes weekly). I have scored so many fun things from cool new bars to laundry soap (perfect for travelling) to cereals and such. It's fun to get free stuff – here is the link.
http://walmart.triaddigital.com/In-Stores-Now-free-samples.aspx
Today Rachel & I are heading out to celebrate Lent being over. She gave up meat for Lent and cannot wait to get her hands on a Buckhorn Tri Tip Sandwich LOL. I am not sure if I'll do a sandwich or a salad but I think one of their fabulous salads is sounding good.
Catch ya'all after lunch!