Sometimes I LOVE being busy just because time flies by. My stomach, however, always keeps me aware of time every 3-4 hours though 🙂 My morning snack was awesome. I whipped up 1 c fat free Greek Yogurt using one of Trader Joe's Organic 0% Vanilla Bean containers with the balance being plain. I topped it with a little TJ's berry blend and some pumpkin seeds.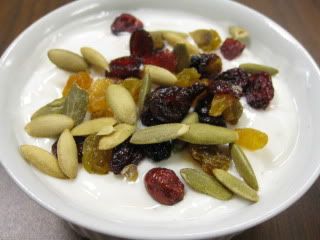 Oh how I missed that Vanilla Bean Greek Yogurt – so good! It was the perfect salty, sweet combination! A little bit later I headed off to Body Pump Class. I LOVE this class and it always gives you a great workout – as if I needed to be more sore, right?! LOL. I came back to a quick salady lunch.
Crunchy "Chicken" Salad
2 stalks celery, chopped
1 small organic fuji apple, chopped
5 oz grilled chicken, chopped
1/3 c Trader Joe's Berry Blend
2 Tbsp Roasted Pumpkin Seeds
1 serving Curry Dressing
Sea salt & freshly ground pepper to taste
Mix it all together and enjoy! This salad was really interesting – sweet, savory and definitely a little curry spicy. I LOVED all the crunch and flavor!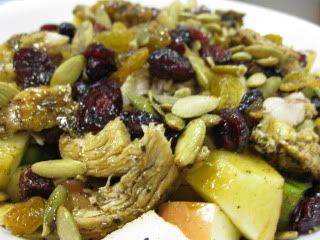 It kept me full ALL afternoon! I didn't need an afternoon snack which was good because The Husband ate my watermelon snack. I did have a spare apple from the gym ready to go, but, changed my mind when my co-worker presented me with a couple of these.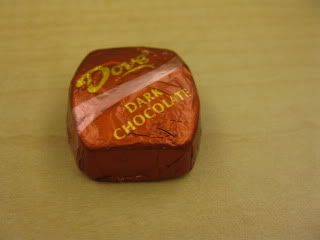 I am such a sucker for candy that talks to me – especially when it's creamy Dove Dark Chocolate. My messages perfectly fit my day and my week.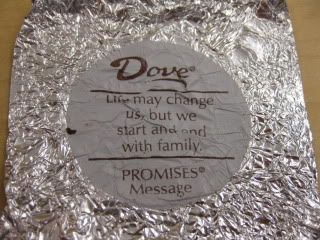 I think the last message means I NEED to take Yoga tomorrow instead of spin. What do you think?! LOL….wishful thinking maybe on my part as a way to spend my required hour long cardio session.
Part 2 of my afternoon snack was sampling fruit at the Farmer's Market – I am LOVING the nectarines, peaches and finally PLUOTS!!! Yeah….I'll be sure to take a picture of my full spread tomorrow for you all.
Coming up next my "Spa-Chiladas"…..