Tonight I have to do things in reverse home. I carpooled home with my co-worker – yeah for one step towards being better to Earth. I whipped up a quick dinner, then, I will finish up another project for work before working out. Then, read/relax……I am pretty tired tonight though so not sure how much reading/relaxing is going to happen.
This afternoon my snack was two more of the 80 calorie Pesto Pizzettas – so good, but, seriously a serving should be more than two!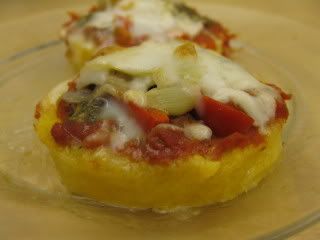 Here is the Quick & Healthy Greek Salad I whipped today for my Jump Start dinner – I changed it up a bit to make it more how I like it.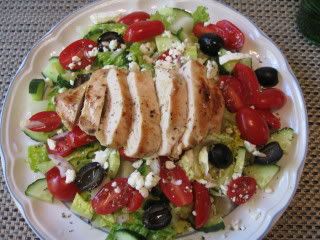 4 oz grilled chicken (threw a breast on the grill with a little garlic salt & freshly ground pepper)
3 cups chopped organic romaine lettuce (the best lettuce ever!)
1 cup chopped english cucumber
1 c fabulous cherry tomatoes, halved
4 black olives, halved
2 Tbsp fat free feta (it's not as strong as the lowfat & full fat & I like that about it!)
1 Tbsp freshly squeezed lemon juice (about 1/2 a lemon)
1 Tbsp Extra Virgin Olive Oil
This was one tasty salad – I am not much of a Greek food fan, but, I found myself digging this salad. I got so much chewing pleasure out of it. 😀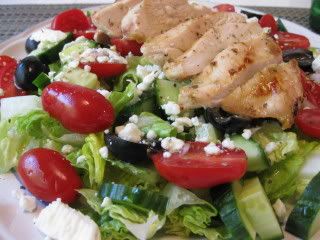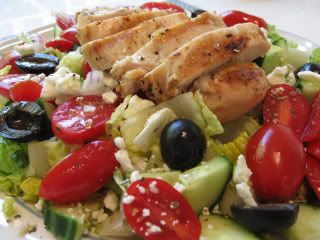 I also whipped up yet another soup while dinner was cooking for tomorrow – yeah! Can't wait to try it.
Tonight's workout is back to 10 minutes of stretching & body weight exercises. I am definitely looking forward to it.
*Shoulder Rolls
* Side Bend
* Lower-Back Mobility
* Dynamic Lateral Lunge Stretch
* Torso Rotation
My Fun Blog news is that I am now featured on the Blog Top List too! You can click the link on the right to "Vote for Me!" by going under the "Check my Blog out on…." spot or by clicking HERE. Yeah!
Have a great night all!