Hi all ~ I know I don't usually get too personal in what I write, but, today has been one of the saddest days of my life and we had one of the hardest decisions to ever make.  This post will probably be more for me than for anyone else, but, I really felt like I needed to share just a few of my favorite moments as a tribute to the BEST cat anyone could ever have.
A few years ago we had this cute cat just show up on our door step.  We actually thought she was pregnant or lost since she was declawed because she had a big belly and was walking around meowing telling us all about it.  We figured we better feed her because she obviously needed her nourishment 🙂
Well, months came and month's went, but, no babies ever came.  She pretty much adopted us though and decided to hang out in our backyard all day long basking in the sun.
This was the PERFECT cat for me since I am super allergic to ALL animals (sad since I grew up on a farm!) and she preferred to stay outside to play.  I LOVE animals but they give me asthma attacks and a swollen face 🙁
She seriously fell IN LOVE with The Husband.  She would wait for him to get home sitting on the porch and would sit outside next to him any time he was working in the yard.  He could put ANYTHING on the ground he touched and she would rub her head all over it 😀 She really became part of our family and I didn't realize how much I LOVED her until today.
I fell IN LOVE with her personality…..she had a thing for ALL BOXES, especially if The Husband put them on the ground 🙂
She is just as corny as The Husband. She literally flips out whenever she hears the can of soft food open. But, it gets better than that, she actually stands on her plate so that nobody can take it away while she eats it.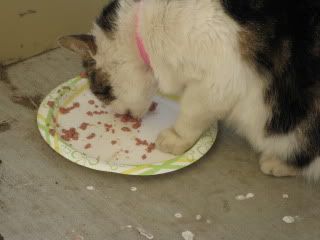 She had funny ways of sitting….
And laying down (That's the "Cat Tent" I got for her to use when the weather got bad)
I really LOVE how she brought out all the quirkiness in The Husband ~ remember the Kitty Ladder he built just so she could climb the fence 🙂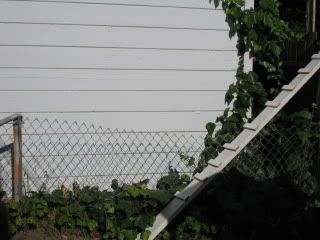 Remember Cat Man??? Yup, he bought this mask just to be a "cat" with her 😉
He has a fierce claw, but, is really just a nice kitty kat!
He taunted our adopted kitty with "meows" and "hisses"…..
It only took her a minute or two to figure out her dad is CRAZY!
  This STILL makes me laugh every time I see these pics
   Here kitty, kitty, kitty ~ Maybe I should pet him
Today we got a call that something had happened to our kitty.  I never realized HOW AWFUL it would feel to get a call like that.
When we got home, she was bleeding everywhere, meowing and couldn't move.  We rushed her to the vet where they put her on an IV, Oxygen and took X-Rays.  They showed us that her ribs were crushed, lungs punctured with fluids in them, her hip was fractured and basically even with surgery she would probably never be to walk/support her body weight again.
We were really left with no choice other than to put her to sleep…..I NEVER wish that on anyone – it's the worst decision to make!  As hard as it is to accept, I know it was the right decision because I would never want her to live her life paralyzed, unable to move and unable to communicate/understand what happened and why she can't go back to her frisky cat ways.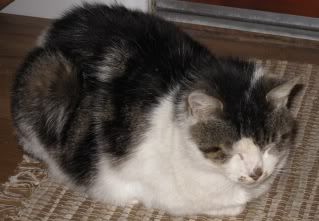 I am not sure if she was hit by a car or hurt by some one or some animal.  I am not sure if it's better to know what happened or to not know how it happened……
All I really know is that it all happened so fast and it was too soon to say good bye to our Adopted Kitty……I want her back!
Today we finally gave her a name ~ Honey!  The nephews always said that was her name because she was the nicest cat around 🙂
I am sure she is happy now in a place with no pain and unlimited canned food with lots of other kitties and people to love her. 
But, I cannot tell you all how much we will miss her ~ she really did give us some of the BEST people and kitty years of our lives ~ we will never forget her 😀