This afternoon after lunch we did a taste test of the Annie's new organic fruit snack flavors: Sunny Citrus and Summer Strawberry. I didn't take a picture since I only tried a couple as we split them among all of us. Our consensus ~ The Sunny Citrus just might be the best flavor yet. It is my personal favorite of all the fruit snacks Annie's offers so be sure to check it out.
While shopping today at Sam's Club, I bought another camera that will fit in my purse!! I am sooo excited about it. I bought the Canon Power Shot SD890 IS. I have been wanting to have a camera that I can take with me versus carrying around our big camera. The Husband always teases me that even though our camera is awesome it is like whipping out an old school cell phone in a restaraunt. 🙂 We will see how it goes, but, I can't wait to use it.
We also delivered some home made dark chocolate covereed peanut butter eggs to The Husband's sis/family and mom while we were out.
When we got back home, I was so tired that I wanted a fast and easy dinner. We pulled out a bunch of appetizers for dinner from the freezer. I cooked up some Okami Chicken Gyoza (potsticker like) and served them up over steamed spinach with Sriyachi, chili soy sauce and green onions. I also stole one of The Husband's Sun Dried Tomato pizza roll ups.
These are some pretty tasty Gyoza and the entire dinner only took about 15 minutes. You have to love that especially when you want to move on to more exciting things like COLORING EASTER EGGS!
We broke out two types of Easter Egg Kits ~ Dudley's Marble Eggs and the $1 Special from Target. You know, I am not sure I really liked either one. The Marble Eggs look cool but I like instant gratification and these take a bit to make. Dip for 3-4 minutes, wait 1-2 minutes for them to try, then dip in another color for 2-3 minutes. I want my eggs to color in seconds 😀 – what can I say? The $1 one….well, you get what you pay for I suppose – the little tablets didn't even fully dissolve in the water.
Here are all the eggs we colored ~ As you all know The Husband is way more creative than I – can you tell which side is his?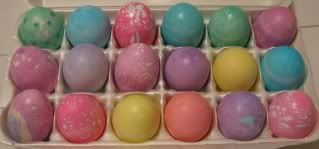 And we even made sure to put some in an Easter Basket so the Easter Bunny could hide them ~ yes, I am 12 and still believe in that little bunny (refer to above where I received Bunny Treats ;o)
I decided after all the egg business that I needed to have a dark chocolate peanut butter egg. So, I split one that The Husband decorated – it was fabulous! So rich and chocolately….the peanut butter filling is amazing. I don't mean to toot my own horn but these rock. I had to talk myself out of going back for more.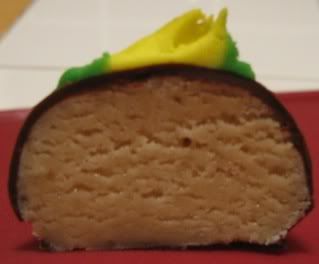 Ok ~ I am off to read, relax and get caught up on my sleep for once! And, just in case I don't catch you until later ~ Happy Easter!!!