What a whirlwind day yesterday! It was such a fun day that I never made it back to post ~ Ooops! I ended up deciding to go out to the birthday celebration ~ afterall, how often is it that not one, but, TWO of your co-workers turn 40 on the same day. Well, Thursday is their actual birthday but we started the party early!
They picked a cool italian restaraunt in Napa for their birthday celebration ~ UVA ~ Trattoria Italiana. It's a quaint place in downtown off the main street strip of shops. It has a really open setting when you walk in.
I LOVED all the great pictures of famous Hollywood actors/actresses when you walk in.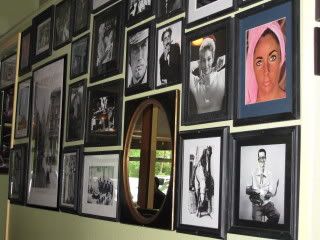 However, I have to say my most favorite place here was The Bathroom! It was sooooo cool – seriously. The woman's bathroom is covered with pictures of only famous woman – yes, I did take my camera to the bathroom to take pictures! At least I did refrain from going into the men's bathroom to take pictures too! 😀
We started our celebration off with wine and lots of it ~afterall you only live once and you are in Napa Valley, right?! Kidding…this was a lunch during work hours. We did start off with some fabulous foccacia and sour dough breads that were served with balsamic, olive oil and roasted garlic. I actually forgot to snap a picture.
Everything on the menu sounded fabulous so we decided to order a few dishes and just share ~ My favorite way of dining out!!!
The first dish was a special pasta of the week "Pasta: Asparagus gnocchi, crispy prosciutto, asparagus tips and ricotta salata"
I split this dish with one co-worker. It wasn't bad, LOVED the Gnocchi, but, there wasn't very much asparagus and there was way too much oil. I also learned that I like the cheese ricotta salata. Here is the portion I scooped onto my plate. I purposefully (yes that's a word!) asked for a small plate so I couldn't take too much of any one thing.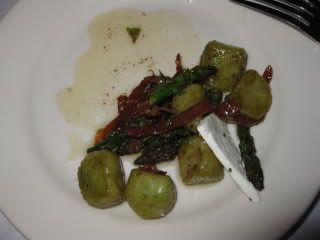 Next, came the "Ravioli d'Erbè ~ Ricotta & herb-filled ravioli with brown butter, crispy sage, pecorino".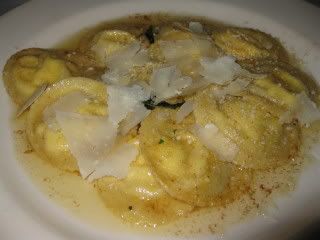 This dish was soooo buttery, good! I LOVED the saltiness that the parmesan yielded, but, it is very rich. I am not sure I could have had more than my ravioli x's two.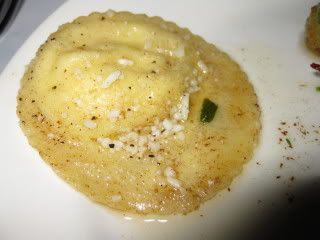 The last dish that we shared was "Pizza Vegetariana ~ Tomato sauce, mozzarella, zucchini, eggplant, roasted bell peppers, fresh arugula"
I really enjoyed this spin on a vegetarian pizza. The argula was fresh and crips and they seasoned it up with some red wine vinegar ~ Yum! It was probably not a pizza I'd order on a regular basis, but, it was nice for a change. I had two slices that looked just like this.
I honestly believe that on your birthday, you HAVE to have dessert and you seriously have to celebrate it for all it's worth. We all saved room for dessert and decided that try FOUR things after checking out the menu. I had a couple bites of each of these.
The first dessert was the dessert I was most looking forward too ~ a Lemon Pudding Cake with Raspberry sauce. I was soooooo disappointed with this because it was served hot – lemon things should not be served hot. There was no raspberry sauce on top by it was on the bottom of the dish and it made the cake soggy. Booo!
The next dish was a Vanilla Bean Creme Brule. I had two bites of this but I am not a creme brule fan. I don't know it tastes like burnt sugar to me 🙂 My co-workers did say it was perfectly made and absolutely delicious. You should take their review since it's a dish they would normally order.
My absolute FAVORITE dish was the flourless chocolate cake with vanilla bean ice cream! It was so dense and thick with little chunks of chocolate. It honestly just melted in your mouth.
The final dessert was an Organic Strawberry Tiramisu. This was interesting as I have never had a fruity version of Tiramisu. You could really taste the alcohol – it gave it a coconut like flavor. It was sort of like a tropical tasting strawberry short cake.
I LOVED how they used chocolate syrup to write Happy Birthday ~ such a cute touch versus embarassing them and singing. I have to admit, I was really voting for the embarassment 😀
It was such a fun way to spend our lunch but I was definitely wishing we didn't have to go back to work! As you can guess I didn't need a morning or afternoon snack today.
Don't forget to go to THIS link to enter my Annie's Mac & Cheese Pack Giveaway!