It has been a pretty good day. This afternoon I came home and cleaned house a bit for my exercise. We have some friends coming by tomorrow so I wanted our house to be presentable. I LOVE the feeling when it's all done and you get to just sit down and enjoy….ahhhh!
Then, it was time to clean up and head out for date night. We decided that traffic wasn't so good so we headed out to Johnny Carino's. We got there just in time to beat the crowd – yes, no waiting.
For starters, I had some warm focaccia bread dip in aged Modena Balsamic, Extra Virgin Olive Oils, herbs and roasted garlic. I had two hunks like this.
While we waited for the rest, we chit chatted about our day and scratched away for entertainment. Too bad I only won a ticket tonight even with all these chances.
Then, we shared some Baked Stuffed Mushrooms. OMG ~ these were probably the best thing of the night. They are made up of Spinach, parmesan cheese, red onions and garlic topped with lemon basil cream sauce, roma tomatoes and basil. I had 2 of these, but, seriously pondered 3.
I chose a house salad with chianti vinaigrette on the side. They make their own dressing and I really enjoyed it. It had a nice tang from the vinegar and with a little sweetness from the Chianti. The carrots was so good on this salad – I enjoyed dipping them in the dressing.
For my main course, I decided to indulge a bit and ordered the Shrimp Scampi. I was really craving shrimp, but, honestly this didn't hit the spot. It tasted pretty good, but, there was too much oil in it to really enjoy it. I ate about half of the pasta and all but 1 of the huge shrimp.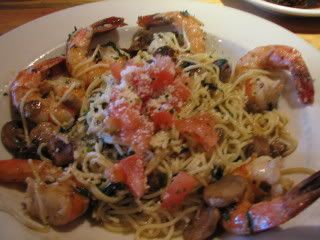 He ordered the Italian New York Strip Steak with Roasted Red Potatoes and green beans. It wasn't bad but he said he definitely needed the A-1 sauce for flavor. The steak pretty much tasted like they used salt, pepper and rosemary, but, that was it other than grilled flavor. I stole a bite of everything on his plate.
We were both too full to enjoy or even split a dessert. We had planned on checking out the new flick Observe and Report but when we showed up to buy tickets they were sold out. We pondered some of the other choices and decided to head home to watch one of our NetFlix. I got to pick this time and I wanted him to see 27 Dresses….lucky guy, right? lol…..
Tomorrow we are driving to Gilroy with our friends to pick up a bunch of windows and doors. It should be a fun adventure, maybe? I am getting up a little early to get in a quick run and packing up some snacks before we head out. See you all when we get back. I will be sharing the cool new direction I am taking on eating and working out for the upcoming week.
Have a great Saturday all!