Today was insanely busy ~ sorry I never made it back to show you all some love. But, I am here now with MORE RECIPES w/fantastic pictures and that's all that matters, right?! 🙂 LOL….I brought a nectarine for my morning snack but decided to add some TJ's Organic Wheat/Flax Crackers to help it stick with me longer (in all honesty) – I had the crackers x's 2 – so addictingly good.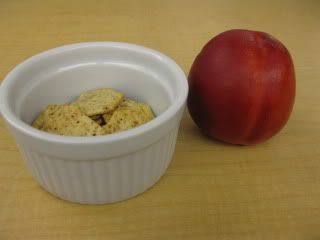 Meditation came at a funny time today. The instructor to Body Sculpt was 10 minutes late so I used the time to be still and meditate (sleep). The class was amazing today because she was on turbo mode after feeling like she let us down. I knew I was in trouble when my legs were burning during the warmup! 200 calories burned strength training – yahoo! I came back to a fantastic lunch.
Crunchy Chickpea & Spinach Salad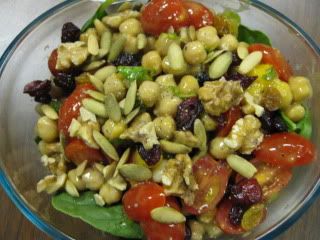 2 big handfuls organic baby spinach (about 1-2 cups)
1/2 can chickpeas, drained and rinsed
handful of organic cherry tomatoes, cut in half
1 Tbsp chopped walnuts
1 Tbsp roasted pumpkin seeds
1 heaping Tbsp TJ's Berry Blend
1 serving Orange-Cilantro Dressing
Sea salt and pepper to taste
I mixed together the chickpeas through salt/pepper and poured them over the spinach. I topped everything off with the berry blend, walnuts and pumpkin seeds. In all honesty, I wasn't sure I'd like this salad, but, I actually LOVED it.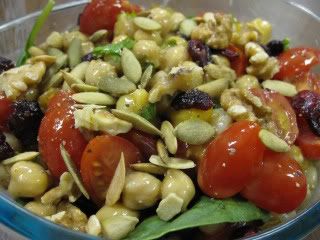 All together with my favorite fizzy water of all time made by the Penguin Machine – I drink like 5 glasses of this stuff a day – it rocks!
I LOVED the nuttiness of the salad along with the sweet berry treats. I'd definitely make it again for a nice switch from a balsamic/olive oil salad.
Ok ~ now comes my confession time. I have been craving sweet things ALL week long *sigh* and today I felt like I had "earned" some dark chocolate. So, with my healthy Bikini Bootcamp Snack I had a little bit of Organic 72% Cacao Dark Chocolate (yeah for healthy Antioxidants :o) It was amazing and I savored EVERY bite!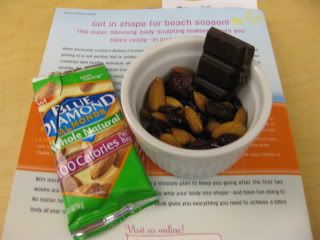 Coming up next, my Indian Inspired Bikini Bootcamp Dinner and our fridge update!