I am soooo excited to be able to bring this Fantastic Annie's Mac & Cheese Giveaway to you all! Annie's is a brand you all KNOW and LOVE, but, let me share a few of my favorite things about Annie's .
* I LOVE everything the company stands for ~ they are all about giving back to the community and the environment – you can read about it HERE!
* I LOVE that they not only support but they use sustainable organic farming to make their pastas. Click HERE to meet the farmers!
* AND, honestly, how could you not LOVE the story of Annie herself. Read about her "roots" by clicking HERE!
MY ABSOLUTE MOST FAVORITE THING I LOVE ABOUT ANNIE'S is that they promote EAT RESPONSBILY AND ACT RESPONSIBLY. Just check out any box and you will be amazed at all the uses that box goes through. The company does everything they can to reduce their Bunny FootPrint – you've gotta to LOVE that!!!
For those "Clean Eaters" out there, just check out the nutrition label on any of Annie's Products – it's 100% Clean and there will NOT be a single ingredient that you will not recognize. Yes, Annie's is often featured in Clean Eating Magazine ~ so cool!!!
Ok, now onto the fun part ~ I am giving away, not one or two, but FOUR fabulous Annie's Prize Packs – Wooohoooo!!!!
Each Prize Pack includes one "specialty" type pasta (Singles, Deluxe, Family or Peace) plus 3 Variety Boxes of Annie's Mac & Cheese (White & Orange Shells & Cheddar, plus one Natural Mac).
Here is what you can win:
1. The Single Serving Mac Pack!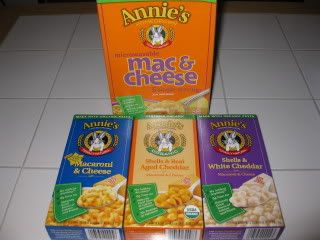 2. The Deluxe Mac Pack!
3. The Natural Family Mac Pack!
4. And my absolute favorite ~ The Peace Mac Pack!
That is a whole lot of Mac N Cheese up for grabs!!
TO ENTER THE CONTEST HERE IS WHAT YOU NEED TO DO:

1. Go to Annie's Site and come back here to leave a comment telling me what product you MOST want to try.
2. If you have a blog, link back to this contest and leave a SECOND comment with that link.
3. If you don't have a blog, tell 3 family members or friends about the contest and leave a SECOND comment letting me who you told.
4. BONUS ENTRY: Add me to your Blog Roll and leave a THIRD Comment Letting me know you did. If I am already on it, leave a comment letting me know.
4 prizes – 4 ways to enter!
You have until THURSDAY, MAY 7TH AT MIDGNIGHT (PST) to enter the contest. Winners will be drawn and posted on Friday so be sure to check back to see if you WIN!
Ready, set, get cheesy!!!