Welcome back Farmer's Market Fridays ~ How I've missed you!!! ALL SUMMER long our work provides us with an awesome spread of fresh organic local fruits, breads and (EVIL!) Kettle Korn for our snacking pleasure once a week – yeah! I resisted the breads and Kettle Korn (although I secretly wanted to sneak the entire container away all for myself) and ended up with a fabulous fruit plate for my morning snack.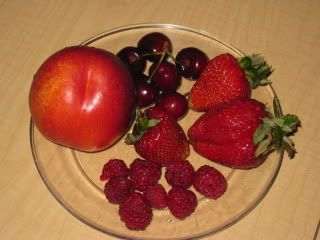 At Spin Class today we had my absolute favorite instructor. I am really not sure why I like her because honestly her classes are so tough, they make you want to keel over! She pushes herself so it's hard for her (and she does a bunch of classes a week!) so imagine what it's like! My Body Bugg chalked up a 394 calorie burn for our grueling 45 minute session.
I came back to the interesting lunch I whipped up this morning. I was out of black beans so I ended up grabbing chick peas instead.
1/2 can chickpeas, drained and rinsed
1/4 c chopped onion
handful of organic heirloom cherry tomatoes cut in half
1/2 chopped red bell pepper
2 pinches of cilantro, chopped
1 small clove of garlic minced
1 lemon, juiced
1 Tbsp Extra Virgin Olive Oil
Sea salt & pepper to taste
a few dashes of TJ's 21 Savory Spice Blend
Topped with 1 Tbsp roasted pumpkin seeds
I really LIKED the chickpea change, although, I think the black beans might have absorbed the flavor better. AVOCADO would have made this salad amazing, but, it was still pretty tasty if you like the lemon/oil combo.
You still have a chance to WIN two things from me – so be sure to check them out!
* Sign up for Bikini Bootcamp month and you will be entered to win a copy of the Bikini Bootcamp Book. Click HERE for the details.
* The crunchtastic Mr. Krisper's Giveaway is ending tonight at Midnight. Be sure to click HERE! to enter before time runs out.
Plus a couple other Giveaways that might interest you:
* Ashley is giving away Sonny Joe's Hummus – you don't really have to click HERE because I want to win it!!!
* Celebrate Summer with Heather's Summer Giveaway by clicking HERE. She is giving away ANNIE's Bunnies – yeah!!!
I think we are relaxing tonight with our NetFlix ~ yeah! I am absolutely looking forward to nothingness.
Do you all have anything fun planned this weekend?