Today's Jump Start lunch was pretty sad and not even picture friendly. It was supposed to be 1 1/2 cups of chicken noodle soup, a slice of cheese on a piece of bread with 1/2 c grapes. Maybe if I had made up the soup it would seem more appealing but I had a can of TJ's lowfat chicken noodle.
It wasn't hard to decide that I needed to make a food swap for lunch. I was actually craving salad – isn't it funny? I've been sort of burned out on salad having 1-2 a day, but, today, I knew exactly what I wanted. We headed over to Buckhorn's to get my favorite salad of all times – the Yik Yak Salad with grilled chicken.
I have tried other thing's at Buckhorn's really (click HERE to see them all), but, this salad just rocks.
This afternoon when I got home I had the coolest box ever waiting for me ~ Pop Chips! My box included a TON of amazing samples! These chips are all natural, "Popped", never fried and soooo low in calories and fat! One of these ENTIRE bags is only 2 WWP each – yahoo!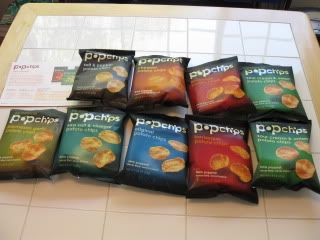 It took ALL my will power in the world to not bust open all the bags and sample them just then. I LOVE BBQ Pop Chips and I cannot wait to try all these flavors. Included in the pack were:
* Original
* Salt & Pepper
* Sour Cream & Onion
* BBQ
* Parmesan & Garlic
* Cheddar
* Salt & Vinegar
Yahoo! I've hit the Pop Chip Jack Pot! Stay tuned as I promise reviews will be coming soon!