I am pondering making Home Made Girl Scout Cookies for the bake sale, but, I wanted to test them out first. I have two awesome recipes in mind to make, however, today, my co-worker suggested making "Mock" Girl Scout Cookies. They are super simple to make and you don't know the difference. She suggested using Ritz Crackers, Chocolate and Mint Extract to make thin mints ~ Yum!
So, the first batch I made, was my "Mock" Thin Mints. These were so simple. I simply melted a Ghiradelli Semi Sweet Chocolate Bar (8 squares) in my double boiler pan. Once melted, I added a 1/4 tsp peppermint extract. I then, dipped each Ritz Cracker in until coated and put it on a sheet of wax paper to cool. I put them in the fridge for 1 hour to chill. The result was this: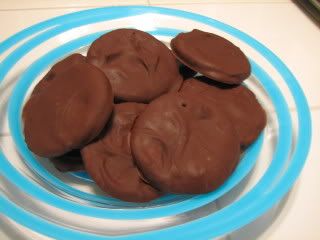 I do like that when you bite into it that it looks like a mint cookie due to the ligher color of the Ritz.
And how it looks next to the Real Thin Mint (hmmm, I never noticed the little holes before):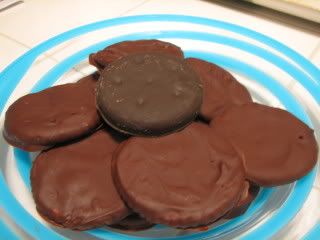 Overall, these do not taste bad, but The Husband and I are not big Chocolate Mint people. He does think the real deal does taste better though. I am going to check what the co-workers think tomorrow as well.
Next, I thought, wow that was so easy, let's take this a step further and make Mock Tag-Alongs. I topped my Ritz Crackers with some Honey Roasted Peanut Butter and dipped them in melted semi-sweet chocolate chips (no extract). Here was the result.
Look at ALL that peanut buttery goodness when you bite into the cookie:
Overall, I have to say, I think these taste better than Tag Alongs. (The Husband was too chocolated out to try any more cookies (he ate the cupcakes & cookies I brought home already lol) so he will review later.) I think this recipe is a keeper, however, I think I might chill the peanut butter on the Ritz first and use the chocolate bar versus chips. The bars yield a thinner chocolate and it makes it easier to coat the cookies.
The last cookie I made was a version of a Moon Pie. I topped 1 Ritz Cracker with the Honey Roasted Peanut Butter and another Ritz with some Marshmallow Cream. I smashed them together and dipped them in the chocolate. The result was not as desirable appearance wise, however, the flavor seriously knocked my socks off! I think if I had chilled them in the fridge before dipping them in the chocolate, there shape might have been maintained. I definitely think this one is a keeper – so good! Here is the result of my "Moon Pies":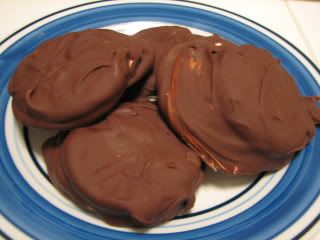 Believe it or not, I made all 3 of these cookies in about 35 minutes – it took longer to chill them. Crazy huh? For that reason alone, this should be a resaon to keep the recipes lol. You do save alot on the calories and fat using a Ritz Cracker too since you do not have the fatty buttery shortbread cookie that is the base for most Girl Scout Cookies. I bet these would taste fabulous with graham crackers too.
It was a fun experiment tonight. I can't wait to make the Samoas next and I've decided to try my mom's Chocolate Covered Peanut Butter Eggs too. I am so glad I can give this all away to The Husband and co-workers. Ironically though, I have pretty much only wanted and had just bites to taste. Maybe that is how chef's stay thin – it's just little bites and rarely the full thing.
I am off to enjoy the rest of The Biggest Loserr and relax. Night all ~ see you in the morning after!