I made up 4 things to try tonight. Two were repeats but I was testing out a couple of things. I tried freezing my moon pies first to see if they would maintain their shape better. They did, however, I either need to use less marshmallow (no!) or double dip them in chocolate…..hmmm, which is better?
I also made up a couple of my Mock Tag-A-Longs to use up my extra chocolate.
I started out first preparing the Home Made Samoa Girl Scout Cookie Bars. I first saw these here and knew I had to make them – they are my absolute favorite! The fact that I can make them into bars is even better because it means you do not have to be perfect in how the shape is. To be able to make a chemical free version is all the better.
Here is a sneak peak of how they turned out: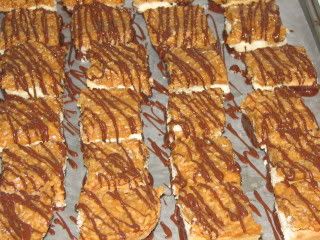 And a closer look:
I have not put them on a pretty plate yet since they have to "chill" for a bit. The Husband snacked two and said they taste 90% like the real deal. I had a bite, but, honestly after working with all this chocolate and such I haven't wanted anything to do with the end result lol. I will give my full review tomorrow on these along with the co-worker feedback. I made 35 bars – more than either The Husband or I should eat.
I also started prepping the Peanut Butter Egg part for the home made Chocolate Peanut Butter Eggs. They need to "chill" over night so they will get dunked tomorrow in some good chocolate, chilled some more, then be decorated in a nice butter cream frosting – yum! I LOVE this recipe already because these are the eggs my mom used to make for us when we were little. It really brought me back to the memories of helping her make them and all. We used to get so excited making them and then be super surprised that the Easter Bunny knew they were our favorites and left us some too 😀
Here is a sneak preview of my naked peanut butter eggs…..they will get clothes (chocolate) and bows (decorations) tomorrow.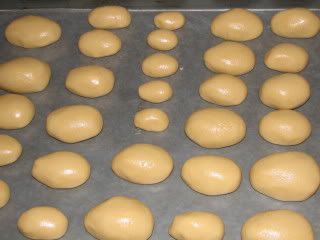 I made them in all shapes and sizes but I do think I need to work on my egg shapes. Maybe once they get dressed they will look more like eggs? Hmmmm. I do have to confess that I took a mini egg for The Husband and for me and dipped it in the leftover Samoa chocolate. It was seroiusly the best thing ever….I can't wait to get these finished and share. I am pretty much convinced they will be part of the bake sale. I am really digging the variety mix though.
Okie dokie…..I am pooped and The Husband keeps trying to get my attention so I best give him some snuggle time. See you all in the morning – Friday is always a good day!