We ended up watching Way of War with Cuba Gooding Jr. last night. It was probably one of our least favorite movies. I hate it when movies jump all around and flash back/forward between different scenes both past/present. I actually had to get up about 1/2 way into the movie to read the cover since I still couldn't figure out the plot. Not one we'd recommend.
This morning I woke up thinking about how fabulous those waffles were yesterday. I decided to see if I could make my oatmeal taste like them by making Banana Nut Oatmeal. This was seriously an awesome bowl of oats and it was just as good as the waffles. I did save the rest of the waffles in the freezer for another day.
Today's mix included:
1/2 cup Quaker Old Fashioned Oats
1 c Water
1 T ground flax seed
2 T wheat berries
1/2 banana
1/2 oz "toasted" chopped walnuts
1 tsp unsweetened organic coconut
1 Tbsp pure maple syrup warmed for 10 seconds and drizzled. It goes so much further when it's warmed up so you use less.
All together with a nice BIG cup of Toasted Coconut coffee.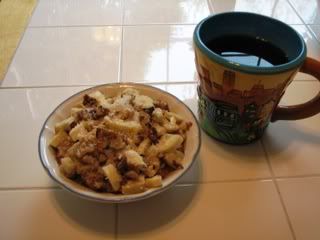 Day 6 Recap ~ Wow, it's almost been a full week and I haven't spent a single day counting down for when the challenge should be over. I did indulge a bit more today than I needed to ~ as in I usually do not drink my calories (POM Spritzer) and I had 2 slices of pizza, but, it was ALL worth it. I still burned enough calories to be in a deficit but will work on being more aware of my eating today. I need to eat only when truly hungry, not because it tastes THAT good or because the food is there.
Calories burned: 3,235, Steps Taken: 15,820
Calories consumed: 2,011
10% Protein, 61% Carbs, 29% fat
Today I am working on my todo list to see if I can make it go down. Enjoy your Saturday, I know we will for sure!