I feel good, bananana, I knew that I would now!!! Ok, I know it's a little early to kill you all with my singing, but, seriously, that is how I feel this morning ~ awesome! I started off my day with a quick 30 minute interval walk/run on the treadmill, followed by 10 minutes of meditation and 15 minutes of sun salutations yoga. I lit my Mandarin Orange Aroma Oils and my NEW Calming Seas CD and it was perfect. When I was all done, I was completly calm, relaxed and ready to start my day.
This morning I took my big container of hot lemon water to go on my drive this morning.
By the time I got into work, I was starving and ready for breakfast. I am trying to not eat breakfast too early since I do not technically get a mid morning snack. Today's breakfast was OUTSTANDING!!!
Banana Swirl Parfait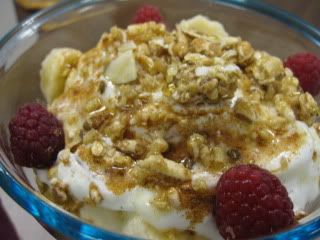 1 banana sliced
1/2 c TJ's 2% Greek Yogurt
A few dashes of cinnamon
1 heaping Tbsp Kashi Honey Almond Flax Go Lean Crunch
1 tsp VEGAN honey ~ Sweet Cactus Agave Nectar (15 calories!)
4 raspberries – for color!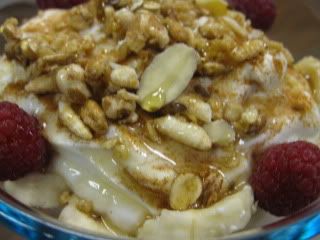 AMAZING!! I savored EVERY bite of this 3 Weight Watcher Point breakfast – sooo good! I also picked out a tea from my Tea Bag Swap to have after breakfast ~ smooth Mint.
I am fueled and ready to start my day. I forgot my apple for snack if needed, but, have a stash of popcorn, crackers, nuts and lowfat yogurt if needed before Body Sculpt Class at lunch.
Quick recap of Day 1 of the Bikini Bootcamp Challenge:
3,039 Calories Burned ~ Woohooo!!!
1,317 Calories Consumed ~ (23 WWP's)
8,657 Steps Taken (spinning doesn't count steps – darn!)
I managed to fit it ALL in yesterday as crazy as it was. I realized I need to check off at least one of the big todos (cardio or strength) in the AM with the other at lunchtime because I can meditate and do yoga anytime of the day. It seems like they start you out with small meals and build up to a big dinner ~ which is the opposite of how my body works, but, I AM working it. I am bummed I wasn't hungry enough to eat my fruit kabob dessert! I LOVED all the food yesterday and look forward to today's eats too!
You can click HERE to see how Angelea's first day went ~ she seriously rocks getting up at 4:30 AM to get everything in!
FUN STUFF FOR TODAY!

* FUN QUIZ ALERT! Click HERE to see if you know the 11 most common RUNNING mistakes we make. Be brave and share your total! I got 7/11 and they say I am a running expert – that's funny!
* Click HERE for a cool slide show on 20 ways to burn 200 calories.
* Women's Health put out an intense Fat Frying Workout that you can download to your Ipod – I LOVE workouts on the go. Click HERE to check it out.
Last, but, not least, you STILL have time to Join us in Angelea & Danica's Bikini Bootcamp June Challenge. Sign up for the challenge (email Angelea) and you're automatically entered for for your chance to win a FREE copy of the Bikini Challenge Bootcamp book! Cut off time for today's book giveaway is 6pm cst today!
See you all after Body Sculpt for a Bikini Bootcamp VEGAN Lunch!