Sorry for not posting this last night ~ After I was done baking and packaging up my goodies, I had the option of posting or heading to bed….the bed won. I debated posted pictures of the baked goods, but, then, I thought it would be a better surprise for my winner to see it when she gets its 😀 Sorry Angelea….but, I am going to keep you in suspense for now 😀 I am soooo excited to report that everything went off without a hitch last night and I proud to say that I shipped the goods this morning – wooohoo!
For dinner last night The Husband requested ribs. I decided to give him a healthy version. I sliced up a center cut pork loin into rib shapes and grilled it with Annie's Organic Sweet & Spicy BBQ Sauce. It was absolutely delicious and it was so much healthier since the "loin" cuts of any meat are the leanest. Mine looks more like a chop than a rib though….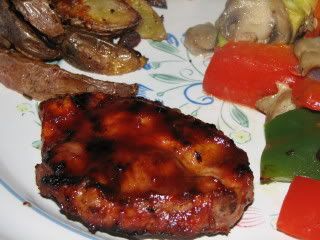 For a side, I decided to make some Roasted Potatoes with parmesan and bacon. These are so easy to make and they are a perfect side. I actually used tri-color potatoes (red, yellow & purpple) not realizing that the picture would make them look burnt (purple doesn't quite capture the roasty look)~ oops! LOL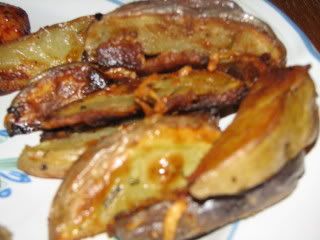 Roasted Potatoes w/Bacon & Parmesan
6-8 red or yukon potatoes, cut into wedges
2 slices of center cut bacon, sliced into 1/2 inch pieces or 2 Tbsp bacon bits
1 tsp finely chopped fresh rosemary or any herb you have. If not, use 1/2 tsp dried
2-3 Tbsp finely shredded parmesan
1-2 pinches crushed red pepper flakes
Sea Salt & Freshly Ground Pepper to taste
Preheat the oven to 450. Spray a 9×13 dish with nonstick cooking spray. Layer in your potatoes, sprinkle with rosemary, sea salt, pepper and parmesan. Spread bacon pieces evenly over mixture.
Cook for 35-40 minutes stirring 1-2 times or until golden brown. Enjoy!
We also had a bunch of veggies in the fridge to use up so I cut them all up and tossed them with a little garlic salt, pepper, 1/2 tsp italian seasoning and EVOO. I put them in foil packets with a little parmesan on the grill to cook along side the meat.
I think the thing I LOVED the most about this meal was it took hardly anything to make it AND there were only 2 dishes to wash – the potato dish and the veggie mixing dish. Oh and The Husband cleaned up all the dishes including my baking ones. You have to love that!