HAPPY BIRTHDAY TO MY SIS!!!! I completely meant to post that this morning, but, my work day took off before I remembered. Hey, it's not midnight yet, so it still counts (don't judge LOL). I also text edand called her so you know that counts. Plus, I told her she gets a spa day with me so um, I think, it's all good! Now….when, can I get that scheduled…..
This morning before heading off to the farmer's market, I had another awesome Jump Start snack.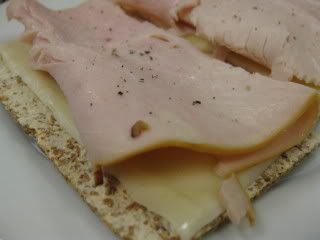 1 oz 99% ff Turkey
1 oz TJ's Lite Cheddar Cheese
2 Kavli Hearty Crackers
Freshly Ground Pepper
This was such a satisfying and crunchy snack! Then, it was off to the market we went. I scored some amazing things again and had way too many samples! I LOVE Bolani Breads and Spreads – I think the guy had us sample like 10 different combinations ~ Yum! Glad it's all low fat/low cal.
Here is everything I picked up today. I bought a pound of Rainier and Red Cherries: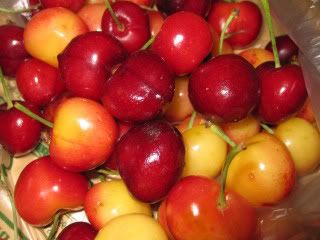 And 3 baksets of organic strawberries for $5 ~ Farmer's Market Tip ~ go to the market a 1/2 hour before they close and everyone wants to get rid of stuff – You can get discounts and score free stuff.


A bunch of mixed organic zuchinni and squash (dinner tonight!)
Plus, you all knew it was coming – Bolani Bread and spreads! This time I bought basil pesto and sun dried tomato hummus ~ YUM!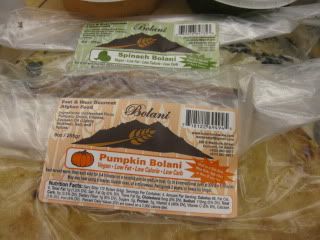 My absolute favorite Bolani boy wasn't there – too bad, he loads us up with free stuff. His cousin was there today and he tossed in a free spread plus pita bread.
I didn't take a picture, but, I also bought a 1/2 lb of organic raw walnuts for $5 – yeah!
I LOVE going to the Market and think I'll be heading out to the local one by our house on Thursday and/or Saturday since each market offers something different.
When we got back, I wasn't really ready for lunch (ummm, too many samples?) but I was so excited for it that I knew I needed to make it up!
Chicken Pesto Pasta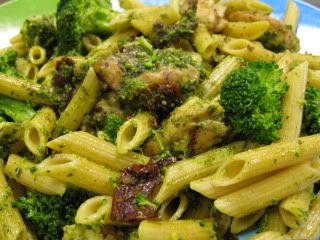 4 oz grilled chicken (sea salt, pepper, olive oil)
1 c cooked multigrain penne
1 c steamed broccoli (toss it in your boiling pasta water for the last 3 minutes)
2 Tbsp of chopped sun dried tomatoes
2 tsp pesto (I used my Bolani Basil Pesto)
salt & pepper to taste
Shake it all up and tadah! So easy, so chalked full of flavor – the sweetness of the tomatoes, crunch of the broccoli and spice of the pesto – delish!
I also had 1 c of cherries on the side:
All together with some fizzy water. I sadly only had the chance to eat about 1/3 of my pasta before I got on an hour long conference call 🙁 It wasn't too appealing after sitting out for an hour. I DID eat all my cherries though.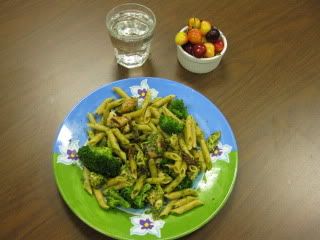 I had the best of intentions today of avoiding the cake I made last night for my co-workers birthday. But, when cake time rolled around, a plate jumped in front of me. I started to take a bite before I remembered – wait, take a picture!
I LOVE this Banana Raspberry Cake with Lemon Cream Cheese frosting – would you believe me if I told you it's not that bad nutritionally? It's from CookingLight.com and it is only 6 WWP for a BIG ole slice of heaven!