Happy Sunday all!
This morning I woke up craving oats and I realized it's been a LONG time since I've had them. I decided to put my latest farmer's market fruit finds to work with my oats.
1/2 c Quaker Old Fashioned Oats
1 c water
Dashes of cinnamon and vanilla extract
2 Tbsp Trader Joe's Berry Blend
1 apricot, chopped
handful of blueberries & a few raspberries
sprinkle of organic unsweetened coconut
Heaping Tsp organic apricot preserves
1 Tbsp freshly ground almond butter (on my spoon)
This totally hit the spot – so fruity, creamy, nutty and sweet – I devoured every bite. During breakfast, I was thinking about rewards. Ever since Angelea asked me to be her Bikini Bootcamp Buddy I have been trying to figure out what my "carrot" should be for successfully completing the challenge. I like having something to look forward to for ANY challenge ~ it gives me that added motivational boost.
My first instinct was something like a massage or a pedicure or facial. Then, I thought, oh wait, I am doing all THAT along the way. So, then, I thought about the real meaning of the challenge ~ Bikini's. I LOVE Venus suits so I broke out my latest catalog.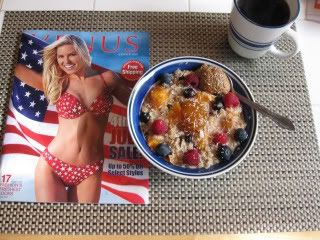 I liked the red one of the cover, but, I also LOVED the teal, brown, patterns on these pages. I am not sure, but, I am thinking I'll be picking and ordering one or two soon!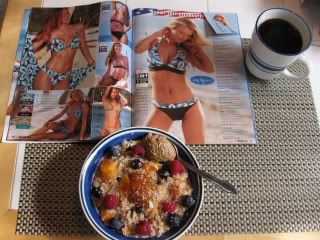 After breakfast, I went grocery shopping to stock up for the challenge. I thought of taking pictures but I didn't think it reflected it all since I have alot of stuff on hand already. Getting all stocked up really made me excited to start the challenge tomorrow!
When I came back, I decided it was time to break out the PB&A Nut Mix that I picked up at TJ's yesterday for snack. I poured a 2 WWP serving.
I had one nut and continued putting away groceries. The Husband helped me out and when I turned around ALL the nuts were gone! So, after I repoured some more, I got excited when I saw a huge, nutty, fruity, chunk.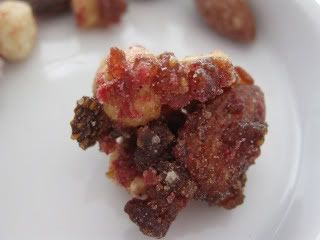 I have to say I LOVE PB&A Nuts! TJ's really out did themselves with this mix ~ they taste just like a peanut butter and jelly sandwich (peanut/fruity ones) and then, the almonds taste just like the fancy flavored ones you get. They are made with both raspberries and strawberries along with vanilla ~ YUM! I'll definitely buy these again.
What is it about when you know your parents are coming over you feel the need to clean?! We just finished cleaning house since my parents are stopping by to check out the new concrete and go to lunch. Yeah, I am excited to see them and glad our house is now clean.
GIVEAWAYS:
* My GNU Bar Giveaway ends tonight at Midnight. Be sure to click HERE to enter so you don't miss out.
* Do you want to get a copy of the Bikini Bootcamp Book? Angelea is giving away a FREE copy to one Bikini Bootcamp recruit. Angelea will draw a name on Tuesday from those that have emailed her to join the program, so SIGN UP NOW!
Ok ~ The parents will be here any minute so I am off to finish getting ready. I think we are doing more house stuff shopping later then a movie, so I will catch up with everyone later tonight.
For now, here is my question to you all!
What reward would you all pick for completing the Two Week Bikini BootCamp Challenge?