Happy Thursday all! I was up at 4:30 AM today to get into the office early with my co-worker to decorate the cubicles in Over The Hill Style for our two co-workers who turn 40 today!
I have to say using that balloon pumping thing really gave my arms a workout especially since I was going as fast as I could working against the clock. It was sooooo early, but, absolutely worth it ~ just check out the results.
Of course we made them pose by their decorations to capture the moment. We couldn't resist teasing them about dressing the same and both in Over The Hill Colors to match…they might just blend in with their decorations 😀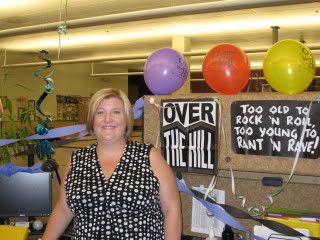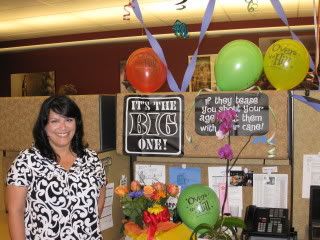 Rachel, my fabulous friend & co-worker made these amazing flower arrangements herself. I WISH I had her skills they are so awesome!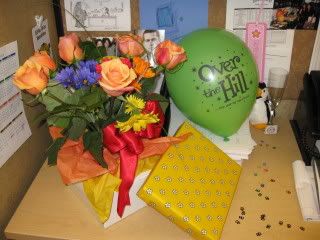 We have cake this afternoon so I am having that internal debate to eat it or not to eat it ~ Maybe just small bites? Not sure yet, but, I know I am getting out at lunch for a walk or run and maybe working out tonight to help make up for it a bit. I need to balance staying within the calorie limits on The 30 Day Jump Start with life events. I'll let you all know the verdict.
After decorating and being up for 3 hours, I was starving! I started off with 3 fluffy egg whites nuked in the microwave for 1 minute.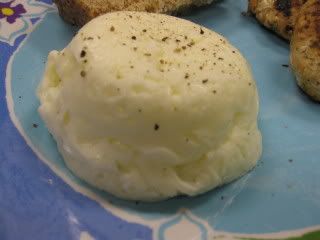 With TWO of the BEST lowfat & calorie Homemade Turkey Sausages. I had these in the freezer from when I made them before so I just pulled them out and cooked them up (yes at 430 AM). Click HERE for the recipe.
All together with 1 slice of Ezekial, 8 oz of fat free milk, water and some half caf coffee.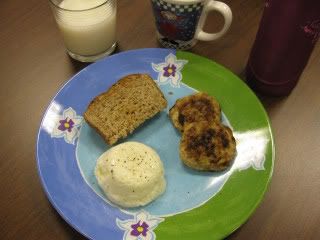 My quick recap for yesterday shows you I didn't work out at ALL! But, I am definitely making up for that today with a double workout. In the end, it all balances out, right?
Calories burned: 2,331
Steps taken: 4,701
Calories Consumed ~ Um Ya….but, today I am getting right back on track!
TODAY IS THE LAST DAY TO ENTER MY ANNIE'S MAC PACK GIVEAWAY ~ If you haven't done everything to get your FOUR entries, be sure to check it out and check them off your list. Click HERE before Midnight tonight!

Catch you all later today!