Lunch today was absolutely delicious and so simple to make. I actually cooked up the beans this morning and threw all the toppings in my bag for quick lunchtime aseembly.
I used The Biggest Loser 30 Day Jump Start recipe for making up my black beans. You can get the recipe by clicking HERE. The only change I made was to used TJ's Fire Roasted Diced Tomatoes with Green Chiles for an added kick and smokiness. Each Burrito turns out to be around 4 WWP each ~ 200 calories – yahoo!
Start out by scooping ~ 1/2 c of your black bean mixture onto your tortilla with 2 Tbsp lowfat mexican cheese blend.
Layer on your remaining toppings. I used Trader Joe's Tomatoless Corn Salsa (it rocks!), tomatoes, green onions cilantro and 1/8 of an avocado. Make it VEGAN by using Soy Cheese (Love veggie shreds pepperjack!) or omitting the cheese entirely. You could add some grilled chicken to give it some more bulk for those meat eaters too!
Seriously – look how good this looks – Yum! It really DID taste THAT good and was full of flavor. I am going to freeze some for future use.
I made up a quick salad with romaine, cherry tomatoes and cucumber on the side for some veggies with about 1 Tbsp of Newman's Own Lite Lime Vinaigrette – LOVE this stuff!
All together with some Penguin Fizzy Water – it was an awesome light and filling lunch for about 6 WWP!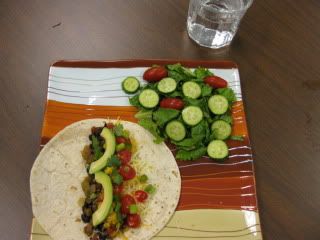 This afternoon we broke into the Bolani Bread and Spreads for snack. I had this x's 3. I also might have had a slice of that Pecan Swirl bread since we were all sharing 😀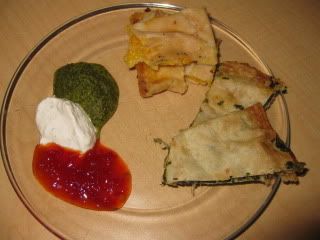 It was definitely alot better than the planned ff cottage cheese with banana and pecans.
I cannot wait for the Biggest Loser Finale to begin – I've been counting down ALL day long! I am off to get in a great workout and make dinner before show time! Catch you all later!