I just have to say sorry to you all today for it being such an off day. I think being tired my brain, my eats and my posts are not as fun. Tomorrow will be better for sure ~ promise. We will be over the hump and I WILL get some sleep.
I just realized I never posted any of my snacks for you today. My midmorning snack was a little bit of crunch and another dairy serving. I had a Trader Joe's Lite String Cheese with some crunchy "veggies" that we bought at The Vegetable Patch over the weekend. I had portioned out some Trader Joe's Wheat/Flax crackers but decided to trade them in for more veggies.
My afternoon snack was a huge organic strawberry that my co-worker gave me pictured below and a small handful of cashews (not pictured).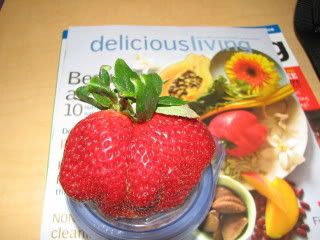 The Husband came home later than planned from playing poker so I pretty much ended up spoiling my appetite for dinner. I snacked on first some Doritos (leftover from yesterday). I swear I never keep chips in the house because I WILL always go to eat them. Then, I decided that I was craving some shrimp so I had a few of the Trader Joe's Shrimp Gyoza we had in the freezer. You know, these were not bad, but, I think I definitely prefer the veggie and chicken versions.
After being lazy on the couch watching The Food Network, I figured I best get my bootie goiong on dinner. For dinner tonight, I was inspired by my latest Edition of Clean Eating Magazine. The soup of the cover looks amazing. I thought of making it as is, but, then, The Husband said that Collard Greens always include sausage and spice. Yes, I took a 5 ingredient recipe and made it into a bazillion ingredient recipe trying to use up the fridge. So, here is my version.
Black Eyed Pea Soup with Collard Greens & Smoked Turkey Sausage*

* Make it Vegan by eliminating the sausage
2 tsp Extra Virgin Olive Oil
1/2 Hillshire Farm Lean Smoked Turkey Sausage, halved and sliced
1/2 green bell pepper, chopped
1 red bell pepper, chopped
2-3 cloves garlic minced
4 cups vegetable broth
1-2 cups water (depending on amount of broth you desire)
1 lb bag Trader Joe's Collard Greens
2 cups sliced, small red or klamath potatoes sliced into 1/2 inch
1 15 oz can fire roasted diced tomatoes
1 15.5 oz can black eyed peas
1-2 cups summer squash (only because I had it in the fridge & needed to use it)
1 teaspoon sea salt
1/2 teaspoon freshly ground pepper
1-2 pinches crushed red pepper
1-2 teaspoons sugar
Splash if desired of hot sauce
Preheat the olive oil in a large soup pan. Add the sausage, onion, bell peppers and garlic. Cook until browned and carmelized ~ 5 minutes. Add the vegetable broth, water and collard greens. Bring to a boil.
Reduce heat, cover and simmer for about 15 minutes. Add the potatoes, tomatoes and seasonings and cook another 10-12 minutes until the potatos are tender.
Add the black eyed peas, summer squash and anything else left off this recipe and cook another 2-3 minutes.
Enjoy!
Here is the portion I scooped out for myself, about 1.5 cups, but, I am STILL too full to eat it. I've had about 5 bites to taste it. I may or may not finish it though since I am trying to listen to my body and eat because I am hungry, not because it's there.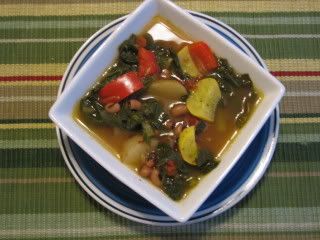 I am really glad I added the smoked sausage based on The Husband's recommendation – it really added a nice smokey flavor and you get a good punch when you bite into one. The soup is so flavorful, you can taste the carmelized onions and the collard greens. I bet it is even better tomorrow (guess what is for lunch?!) The Husband loved it and had 2 bowls. He had is with some Rosemary Potato Bread and said it is worthy of 4 out 5 stars, not bad.
Alright ~ off to relax, watch The Rocker and do some Yoga. I'll be back tomorrow refreshed and ready to go!