Since it is so beautiful outside today, my co-worker and I decided to head out for lunch today instead of going for a run. I actually welcomed this as I am looking forward to doing a different workout tonight, but, more on that later. We ended up going to Gillwood's Cafe because they have so many options you can pick from. I LOVE that they serve breakfast ALL day, they make amazing sandwiches, salads and more. I was pretty torn about what to order, but, when I saw the Chive with Vegetable Omelet I was sold. Thanks to Rachel for saving me since I completely forgot my camera in all my excitement to get outside.
This fabulous omelet was made using Egg Beaters (per my request) and a veggie medley which includes mushrooms, zucchini, crooked neck squash, Red and green bell peppers & onion, chopped tomato, a little jack/cheddar cheese and it's topped with fresh chives.
On the side I had their homemade Honey Wheat Bread (2 slices) and Grilled Home Fried Potatoes.
Can I just that I completely devoured this entire meal….it was so tasty and it really hit the spot. Why don't I have breakfast for lunch more often?!
This morning I snacked on a Kashi Dark Chocolate Coconut bar as I knew we were having a later lunch.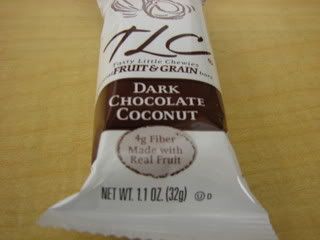 We also picked up something special for snack time at the bakery….check back later to find out what ~ I can't wait!