Happy Hump Day all! I am oh so glad that the week is half over today and tonight I get to finally get some sleep. I have not made it to bed before 11 all week! After staying up way too late watching the finale, I was moving a bit slow this morning. I didn't prep anything the night before so my breakfast was put together on the fly!
I started off with my 1 WWP of 3 fluffy egg whites.
With a 1 WWP Thomas Double Fiber WW Enlgish muffin topped with 1 Tbsp freshly ground almond butter (2 WWP) and 1 Tbsp natural apricot preserves (1 WWP).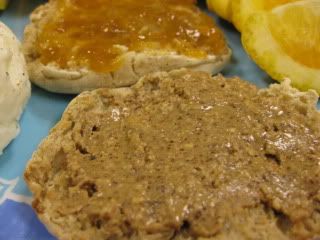 And some 1 pt orange LOVE! These oranges are so sweet and juicy.
All together with some decaf coffee it was a great 6 WWP start to my day and close to the same calories the 30 day Jump Start has for breakfast – yeah!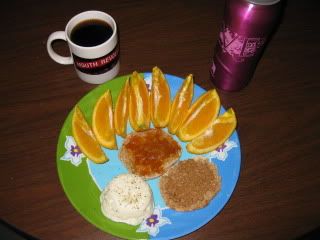 I have to say I am a little bummed out that I didn't get to make the Cheesy Veggie Frittata, but, maybe sometime in the future.
My exciting news of the morning – I get to talk to the London Reporter about Hungry-Girl!!! How fun is that?! He wants to interview some of her followers for his article. I'll let you know what he says and when he publishes his article. yeah!
Even though my day started out scattered, I know it's going to get better! Catch ya all later!