Happy Monday all…..get ready and get set because it's almost time for Meghann's Bake Sale to begin (don't miss out on bidding on my fabulous Girl Scout Samoas& Mock Tag~A~Longs PLUS the goodie of your choice!!!) AND…….drumroll, the NEXT ANNIE'S giveaway. Be sure to check back a little after 8 am (PST) for all the details
Do you ever just wake up craving exactly what you had yesterday? I absolutely LOVE peanut butter and apricot and well waffles too 🙂 lol….So, I made up another Naturally More Peanut Butter and Apricot Wafflewich. Served up with half caf Starbuck's/Pete's coffee and a SIGG full of water.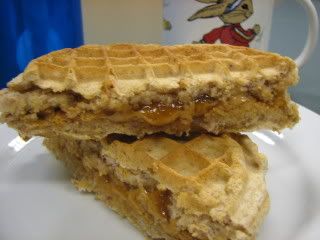 Did you all see this segment on Eat Like Me Today about is the economy making you fat? It's kinda cool….here is a link to check it ou.
http://www.self.com/fooddiet/blogs/eatlikeme/2009/04/is-the-economy-making-you-fat.html
See you all in a few when all the fun begins!