After our 5 minutes of fame on The View from The Bay and a sneak preview for tomorrow's show, we headed out of San Fran to El Cerrito for the Hungry-Girl Book Signing. We arrived early in our usual fashion and headed over to Romano's Macaroni Grill for dinner.
We started off with their fabulous focaccia bread with balsamic and olive oil. I had 1 1/2 slices of this loaf.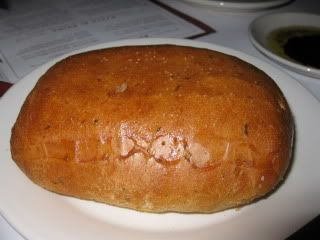 Ahhh, I LOVE bread! The Husband ordered the triple sample platter for us to share, but, you know what, that calamari smelled so fishy none of it really appealed. I had 1/2 a mozzarella stick and a little of the tomato bruschetta (so good!).
Cheesy good!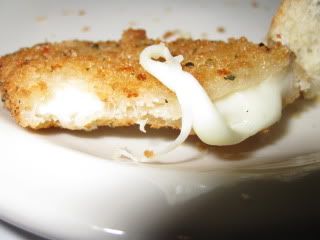 We all ordered from their Chef's Special Menu. It included salad plus an entree plus dessert – yum! My favorite thing of the whole night was this salad. I ordered my italian dressing on the side and dipped my fork in it as I ate my salad.
I ordered the Pasta Milano "Imported bowtie pasta with tender, grilled chicken, sun-dried tomatoes and fresh mushrooms" with NO cream sauce. It was just the veggies, olive oil, pasta and chicken – LOVED it, but, couldn't finish it at all. The portion was huge – I ate about 2/3 of it.
The Husband ordered their layered lasagna. This was the first time I have ever seen lasagna in a round dish, but, I LOVED the plating so I had to share.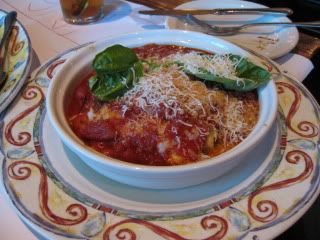 We all somehow managed to save room for our desserts. The Husband and Rachel picked
Smothered Chocolate Cake – "Rich chocolate cake smothered in homemade ganache and sprinkled with pecan pieces."
I LOVE all things lemon especially when it comes to dessert. So, I picked the
Lemon Passion – "Citrus cake soaked in sweet cream then topped with lemon mousse and whipped cream". I definitely ate up all the caramel but thought the fact that the cake was soaked made it soggy. The frosting was great though.
And because I was on a picture kick all day long, I snapped this pick of The Husband and I while we waited for our check.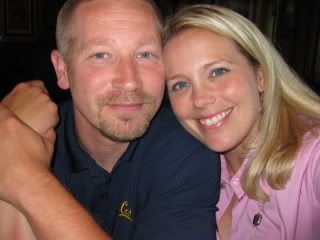 We rolled (yup, that full!) our of Macaroni Grill to head over to The Hungry-Girl Book Signing next. I have never been to a book signing before but I have to say this far exceeded my expectations and totally deserves a separate post too after my View post!