After hearing Kirwin describe the Gentle Hatha #2 session as a great way to wake up, I decided that was what I was going to do this AM. I actually really felt like I needed yoga this morning as my legs were pretty tight and a little sore from yesterdays run. We really improved our time a bit and I am sure it had to do with all the happy sunshine lol. This mornings session really helped to stretch out my muscles and it felt like I was getting a bit of a massage. I felt the tension getting released from my shoulders and my legs getting more flexible. I actually convinced The Husband to try out Yoga with me! I told him it was like getting a massage and he said he'd try it as long as I don't laugh – yeah! I will definitely do this session again even if I am not flexible enough to do a "Fixed Firm Pose~Full Expression". Maybe someday….
Breakfast brought back childhood memories for me. I wanted to mix things up a bit and have something different. It is actually challenging to think of new ideas each morning so I do not eat the same thing all the time. Being Vegan means not a ton of options, but, I am learning. I started off with a bowl of cream of wheat. To make it last longer I added, 1 T ground flaxseed and 2 Tbsp wheatberries.
3 Tbsp Cream of Wheat
1 Tbsp ground flaxseed
2 Tbsp Wheat Berries
1 cup water
Dash of cinnamon
1 Tbsp brown sugar
1 Tbsp Whipped Vegan Butter
A few banana nut cheerios (blah – too sweet, but, it was a free sample)
Along with this I made up a quick fruit salad: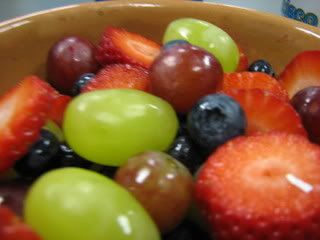 And keeping with the theme, here is one picture of me when I was little ~ check out those cool pink" cords" pants I have!
Day 4 Recap
I had thoughts today that made me realize that being Vegan isn't as tough as I thought it would be….it has almost become part of my lifestyle. My only big challenge so far that I had to deal with was where to eat when you go out to eat. That was the day we ended up getting salads at Whole Foods. However, Friday, we are testing out a Vegan Restaurant – can't wait! I really enjoyed my food today and how quickly it took to make it. The carrot cake cupcakes were definitely the highlight along with my morning yoga and run. I feel balanced even though I am tired! Starting out the week sleep deprived is never good for the rest of the week.
Calories burned: 3,066, Steps Taken: 13,960
Calories Consumed: 1,623
Protein 12%, Carbs 56%, Fat 32%
Happy Thursday all! The weekend is almost here – yes! See you for lunch.