Today we decided to head out to eat for lunch versus going out for a run. (No worries, I'll find a way to make up for it later!) We went to Buckhorn Grill in Napa Valley and had the most amazing lunch. Who knew that a place known for their Tri Tip could have an amazing vegetable meal too!
This might be one of the best all veggie lunches I have ever had. We were both completely starved due to our inability to decide where to go beforehand lol. We pondered and pondered until we finally picked a place that we could eat at ASAP. I LOVE Buckhorn because the wait is never too long and you get the instant gratification of having your food delivered within 5 minutes of ordering. They give you these cute little cards after ordering ot mark your table. I liked being the Jack of Spades today 🙂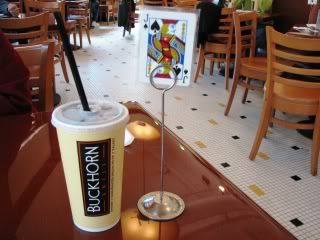 I ordered the Portabella Buck. It is "Marinated and grilled, served with lettuce, tomato, provolone cheese and Romesco sauce". I also had them add avocado because it makes EVERY sandwich rock. The Portabella had so much flavor from the mariande and you get the smokiness of having it grilled.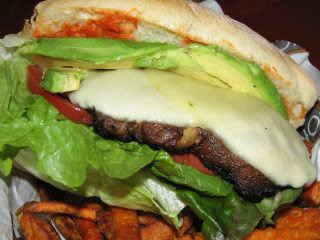 I know I really should have picked a salad as my side, but, I found my mouth saying "Sweet Potato Fries, please!" Don't they look amazing!
I pretty much devoured my sandwich ~ Their freshly baked bread is so good – crispy on the outside and doughy on the inside. Since we also wanted to make a stop at Whole Foods, I didn't have a chance to finish those fries. I had about 1/3 of them. So glad that shopping could save me a little on my calorie budget. Here is my entire plate all together.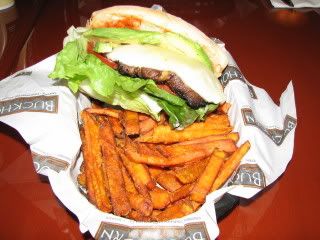 I scored some good deals at Whole Foods too that I am so excited about. Good eats+ some fun shopping makes going back to work not seem so bad.
Tonight I will be working on putting together everything for my very first product giveaway this week. Stay tuned for more details later on, I guarantee you won't want to miss it!
In case you didn't vote already, make sure you Vote on your favorite bake sale item!